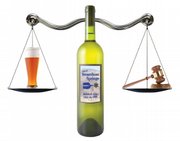 Steamboat Springs — This week, the Steamboat Springs City Council will decide whether it wants to convene as the Steamboat Springs Liquor License Authority to consider reversing the controversial revocation of Kevin Nerney's liquor license.
In the weeks and months ahead, council members will decide whether they want to convene as the Liquor License Authority ever again.
Many Colorado communities similar to Steamboat Springs delegate liquor license decisions to an outside body such as a board, commission or hearing officer. Lately, there has been a push by some Steamboat Springs city officials - including Councilwoman Cari Hermacinski and City Clerk Julie Jordan - to do the same.
"I think it's a great idea," Jordan said. "I think (other communities) have all found success in having a separate entity, whether it be a board or other entity."
Aspen, Vail, Breckenridge and Glenwood Springs are mountain-resort communities that Steamboat often compares itself to for such things as sales tax revenues and employee salaries. All four have liquor license authorities separate from their city councils.
Officials with the Colorado Municipal League said Steamboat's arrangement is atypical for a city of its size.
"Generally speaking, most larger municipalities appoint citizens to a board," said Lisa White, spokeswoman for the Colorado Municipal League. White said Steamboat would be considered a larger municipality.
Hermacinski has argued against City Council serving as the liquor authority because of the liability concerns it raises.
"I firmly believe that the city should not be acting as the liquor licensing authority," she said.
According to the city's "Public Officials Liability Handbook," published by the Colorado Municipal League and the city's insurance provider, elected officials can reduce their risk of personal liability by focusing their "efforts on legislative and significant quasi-judicial decision-making" rather than those of an administrative nature.
"Reduced risks of personal liability : can be achieved by delegating : authority to specialized boards, commissions or job positions where particular expertise is necessary and the risk of litigation is greater (for example, establishing a beer and liquor licensing board to make or recommend licensing decisions)," the handbook reads.
The previous City Council voted 3-2 to revoke Nerney's liquor license after two days of quasi-judicial hearings. The hearings were in response to allegations that Nerney made unlawful sexual contact earlier this year with a patron at his bar. Nerney was found innocent of the charges in criminal court, but the council, acting as the Liquor License Authority, moved forward with the hearings nonetheless.
Employing a different standard of guilt, the previous City Council voted unanimously that Nerney was guilty of the charge. A majority of the council then proceeded to vote to strip Nerney of his license. He and his attorney are appealing the decision in District Court.
City Council President Loui Antonucci said the liquor license authority issue might be an example of the generalists on City Council not sticking to "City Council stuff." Jordan noted that City Council members already have "so much on their plate already" without the added responsibility of the liquor authority.
These are common issues raised in communities throughout the state, said Jeff Wilson, general counsel for the Colorado Municipal League. Wilson said governing bodies in these communities often reach a tipping point when they decide it is no longer appropriate for them to serve as the local liquor authority.
"Some of these governmental functions like liquor licensing benefit from having a local board with particular expertise in that area so that the generalists on the governing body don't end up doing this," said Wilson, who also noted the increased risk of litigation. "Liquor licensing is one of these areas where it can be very contentious. You can have a lot of concerns in the neighborhood about the need for another liquor-licensed facility, and you also have people making quite a bit of an investment in their business seeking these licenses. That's a prescription for litigation."
Jordan said that if the city decides to delegate the duties of the Liquor License Authority, the make-up of the entity it creates would be key. She said other communities have struggled with concerns arising from people trying to get on the local liquor authority board or commission for self-serving reasons. As such, Jordan's recommendation is for the authority to consist of a hearing officer with a legal background.
"Our community would be well served by a hearing officer," Jordan said.
In her research, Jordan has spoken with two other city clerks who have weathered in their communities the transition of the liquor license authority moving from the local governing board to a separate entity. Jordan said she doesn't think it would be a difficult transition, but said it would be important to educate the community about the change in procedure.
"I think the difficult part would be the public outreach," Jordan said.