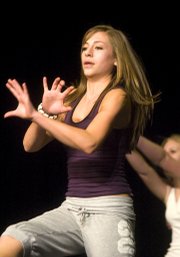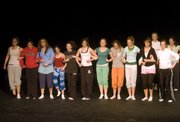 Steamboat Springs — With no dance studio currently offering classes to high-school-age students, the Steamboat Springs High School Dance Showcase is one of the town's few places to practice dancing and choreography.
"We wouldn't have any other form of dancing if we didn't have showcases," showcase director Whitney Lewis said.
Lewis, along with fellow director Mandy Luchini and producers Tara Conlin and Alex Morrison, danced with studios in town before they closed or went on hiatus. Luchini said before joining the high school production, it had been two years since she had danced in a show.
On Thursday, the directors and producers saw the 17 dances that potentially will make up the 2008 dance showcase, which is set for Jan. 31 and Feb. 1 and 2. About 60 dancers will perform pieces that are student-choreographed, produced and directed.
"It shows the community how much high-schoolers are capable of doing. There's a huge amount of work that goes into it, and when people find out that we did it all, they realize that," Conlin said.
Everything about the show is organized at the high school level: the dancers do their own choreography and rehearsing, and the lights, sound and other technical aspects are student managed.
Directors are responsible for overseeing choreography, running rehearsals and making sure everything goes smoothly until the show goes up. Producers handle fundraising, accounting and advertising.
The only outside input comes from community members, such as participants in the Steamboat Dance Theater, who offer their critiques during months of rehearsals.
"They do all the artistic side as well as the business side," said Kelly Erickson, an SSHS social studies teacher and the showcase's faculty adviser.
The theme for this year's showcase is "unpredictable," and the list of dances includes a musical number, pieces using jump ropes and chairs, and variations on lyrical and hip-hop.
"We try to steer clear of just hip-hop and ballet," Conlin said. "It's just so predictable it's all the same."
Because the showcase's target audience is high school students who don't necessarily have dance experience, Erickson said a set full of ballet could get monotonous.
Lewis explained the theme along those lines: "Every year, we do so much more, and we try to add more every year. We try not to make it the same as it was before, so it's unpredictable."
The showcase started as a senior project 12 years ago. It's now an extracurricular activity, and its leadership has changed hands through upperclassmen interested in dance.
"I think it allows a place for students to express their creativity," Lewis said. Because the production is student-run, everyone is open to and supportive of new ideas.
"It's so great that all these people come together and do something you don't normally see high-schoolers doing," she said.