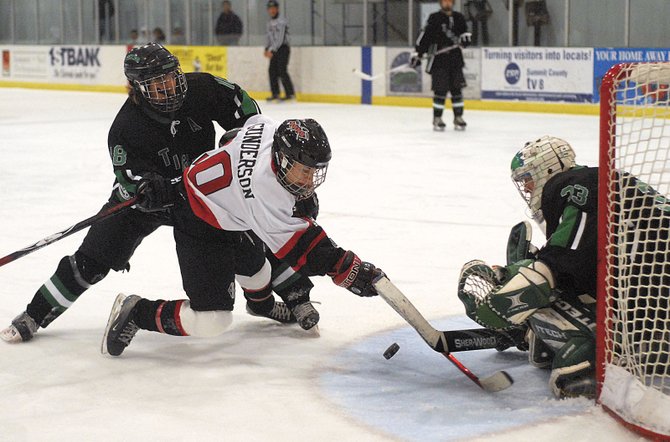 Sailors hockey drops opener
Loss to Summit kicks off King of the Mountain tourney
Saturday, December 1, 2007
Breckenridge — It will be an uphill battle if the Steamboat Springs High School hockey team hopes to make it three King of the Mountains tournament titles in three years.
Steamboat fell, 6-2, in its opening-round game against Summit on Friday at Stephen C. West Ice Arena in Breckenridge.
It was the first time Summit has won a game in the tournament that also features Battle Mountain and Aspen in a round-robin format.
Alex Gutierrez scored Summit's first goal just 1 minute, 4 seconds into the contest on an assist from Braxton Campbell. Campbell, who was deep in the right side of Steamboat's end before skating the puck back toward center ice, found Gutierrez in front of the net. Jeff Montepare doubled Summit's lead less than 90 seconds later when he scored an unassisted goal off Steamboat goalie Jeff Dawes' (17 saves) deflection.
Steamboat's Billy Taylor cut the Summit lead to 2-1 with 5:34 remaining in the first when he put one past Summit goalie Nick Springer from point-blank range.
The Sailors' ability to mount a comeback was quelled by their six penalties in the first two periods (seven overall).
"We scored our first three goals on power plays," Smith said "That's something we've been working on, and that's one thing that did look good tonight. I told these guys if they can focus on drawing penalties, then we're going to win a lot of hockey games this year."
Summit picked up four third-period penalties (for a total of six), but they occurred too late to help the youthful Sailors, who got their second goal from Cam Fritz with 6:36 remaining in the second period.
Summit's insurance goals came from Montepare (one assisted by Shamus O'Neill, the other by Tommy Moles and Scott Noble), Gutierrez (assists by Campbell and Kyle Johnson) and Andrew Beardsley (from Brad Zimmerman).
Steamboat continues play at 8 a.m. today against Battle Mountain. The team then plays Aspen at 3:15 p.m.