This year's Soroco football squad expected to air it out
Soroco football
Saturday vs. Glenwood JV, 1 p.m.
Sept. 7 at Saratoga, Wyo., 4 p.m.
Sept. 14 at Meeker, 7:30 p.m.
Sept. 21 vs. West Grand, 7:30 p.m.
Sept. 28 at Paonia, 7:30 p.m.
Oct. 5 at Hayden, 7:30 p.m.
Oct. 13 vs. Eagle Valley JV, 1 p.m.
Oct. 19 vs. Grand Valley, 7:30 p.m.
Oct. 26 vs. Rangely, 7 p.m.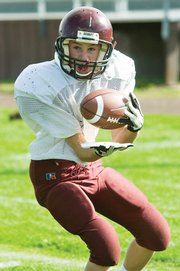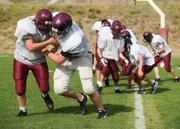 Steamboat Springs — Soroco High School football coach David Bruner hasn't let the track and field season go.
Bruner, who coached the Rams to a successful track and field season earlier this year, is bringing a similar philosophy to the football field. Gone is the I-formation, ram-it-down-the-opponent's-throat game plan.
Enter the football track meet known as "Bruner ball."
It's a wide-open, spread-it-out, run-and-gun, four-wide receiver set, toss-the-old-pigskin-around philosophy.
"It's a lot more going up and down the field," Bruner said with a smile. "We're not just standing around, but we're going up and down. Once we get our timing down, we'll be all right. We'll make some mistakes, but I think overall, when it gets down to it, we'll be a better football team."
The idea, Bruner said, is to spread defenses out, allowing the offense to get the ball in its playmakers' hands.
Bruner, who coached the Soroco defense last year, has had success running the spread option attack at previous head coaching stops in New Mexico and Oklahoma.
"We're going to spread defenses out and not let them put eight or nine people in the box," Bruner said. "That's what happened to us a lot last year. We were real favor-oriented towards the run - probably 80 or 90 percent. People knew we weren't going to throw it, so they stacked the box. Hopefully, we'll spread out people more."
While the Rams lost 11 seniors from last year's team that won only two games, Bruner comes in with an optimistic outlook.
Along with sophomore quarterback Cody Miles, the Rams feature several talented players at skill positions.
Seniors Dennis Morgan and Levi Gonzales are expected to contribute at running back and wide receiver. Talented sophomore Alex Estes will see time at wide receiver and in the backfield, as will junior Justin Iacovetto.
"It's a lot of fun," Morgan said about the offense. "I think it will be better. This year we've got smaller, faster guys."
The Rams won't totally abandon the running game. Bruner said he hopes to throw the ball about 65 percent of the time, depending on the situation. Either way, Bruner said along with the new offense, he's trying to bring a different mentality to the program.
"The kids are tougher. That's one thing we will be is tougher," Bruner said. "We're hitting every day. The kids are tougher and I think a lot of them believe in what we're doing."
While some might expect Soroco to finish near the bottom of the league - especially considering the strength of league foes Hayden and Grand Valley - Bruner, the quintessential optimist, expects different.
"I think there's a lot of people who don't expect us to win a game," he said. "But I've got pretty high goals for the kids - probably higher than most people.
"An outstanding season for the kids is six wins."