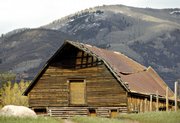 Steamboat Springs — Efforts are under way to stabilize and preserve the historic More Barn.
Wendy DuBord, the city's assistant city manager, announced Thursday that the $116,000 contract for the work has been awarded to Fox Construction of Steamboat Springs. The city received two bids for the project.
"It's an icon for the entire Steamboat community," DuBord said about the barn made famous by Steamboat Ski Area advertising campaigns. The barn is on Pine Grove Road across from The Pines condominium complex.
The barn, which is being preserved amidst the developing Steamboat Barn Village, will be the center of a 4-acre park that has been donated to the city, DuBord said.
The project should be completed quickly, she said.
"Obviously we wanted to get it done before the snow flies," she said. "We just wanted people to know what they were going to be seeing here in the near future."
Linda Kakela, the city's director of intergovernmental services, said the project is the first phase of several designed to save the barn.
"We're really excited," she said. "The purpose of this phase is to preserve the More Barn to the approximate state of the famous 1972 poster, which is a very famous poster in the ski industry."
Kakela was referring to a poster of the barn in winter that features two horseback riders with skis strapped to their saddles.
Being able to save the barn in the form of a park is a huge accomplishment for the city, she said.
"The barn is a significant symbol of the relationship between skiing and ranching in our community," she said.
The project, which could include future projects to preserve surrounding buildings, is being funded through a $150,000 donation from the developers of Steamboat Barn Village.
Steamboat Barn Village, which will include a mix of housing units, is currently under construction on land adjacent to the barn.
- To reach Alexis DeLaCruz, call 871-4234
or e-mail adelacruz@steamboatpilot.com