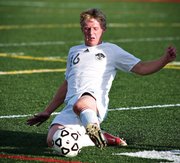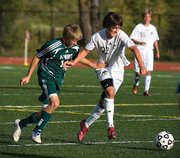 Steamboat Springs — Youth and vigor seemed to trump age and experience in Steamboat Springs High School's boys soccer home opener Thursday at Gardner Field - at least, in the first half.
But a reversal of momentum to start the second half allowed Summit, a team that lost only three starters from last year's squad, to defeat Steamboat, a team that returns only three players.
"It was back and forth the whole game, but we really took advantage of the two chances we had in the second half," Summit coach Justin Turri said. "But (the Sailors) look a lot better."
The Sailors opened the game with controlled ball play at midfield and made a habit of shutting down Summit attempts at offense or even more than two linked passes.
Shortly after Steamboat generated one of its best attacks up the length of the field, which resulted in junior Ryan McConnell's shot clanging off the crossbar, McConnell was tripped. Senior Kevin Bertrand nailed the ensuing free kick from outside the box, scoring in the low corner past diving Summit goalkeeper Kyle Hill.
Up a goal with 20 minutes left in the first half, the Steamboat defense collapsed on all contested balls in its zone. But Summit began showing sparks of intensity as Tigers forwards Brian Joyce and Daniel Chapman each struck a close shot. Steamboat goalie Connor Birch saved the first shot - one of his three saves - and the other sailed just inches wide.
Summit rode the momentum through what proved to be the crucial first 12 minutes of the second half. Six minutes in, Chapman tipped a ball through Steamboat's center fullbacks to a streaking Joyce for a breakaway shot that he scored to tie the game. Six minutes later, Summit midfielder Anthony Massaro deflected a free kick delivered right to the goal line.
"We came out tense for sure," Chapman said. "But the second half, we were able to play much more defensively with the lead."
Suddenly, the Tigers were the ones thwarting repeated attacks.
Steamboat coach Rob Bohlmann was pleased with the "resiliency" the Sailors showed in the final 20 minutes of play, again possessing the ball on offense. They just couldn't get their cracks on goal. Harding took Steamboat's only shot on goal in the second half, a lofted one that Hill barely nabbed to notch his sixth save.
"We started the second half flat, but they really only played 10 minutes better than us," Steamboat senior Michael Lyon said, putting the close game in perspective compared to his team's opening showing at Summit last year, a 4-0 shutout loss. "This one feels way better."
Steamboat plays at 11 a.m. Saturday at Vail Mountain School.
- To reach Dave Shively, call 871-4253
or e-mail dshively@steamboatpilot.com