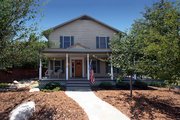 Steamboat Springs — Serious homebuyers and looky-lous will have the run of 19 beautiful Routt County homes Saturday during the Prudential Steamboat Realty Labor Day Home Tour.
The properties range from 5-acre estate lots in Alpine Mountain Ranch to the $7.8 million covered bridge house in Catamount Ranch & Club and a handsome Old Town home with a covered front porch.
"The main goal of the home tour is to provide a comfortable format where people can view a variety of homes," Prudential Steamboat owner/broker Pam Vanatta said.
The public is invited to stop by the Prudential office in Wildhorse Marketplace at 10 a.m. Saturday to pick up a tour map and enjoy a complimentary brunch. Wildhorse Marketplace is a commercial center close to the U.S. Highway 40/Mount Werner Road exit that leads to the ski area.
The tour lasts until 3 p.m.
People are free to set off on a self-guided tour or join a Realtor in his or her personal vehicle to set off and tour targeted homes. The tour can be as formal or informal as people want.
The tour also offers an opportunity for visitors and residents alike to get a feel for the estate lots and new community buildings at Alpine Mountain Ranch, just south of the city limits. Many longtime locals may not be aware of the views Alpine Mountain Ranch affords of the south valley, Vanatta said.
The tour features luxurious homes in Anglers Retreat, Agate Creek and Stonewood. There are family homes on Logan Street, in Silver Spur, Hunter's Drive and on Harwig's Circle.
"We'll have a slew of good agents here who can answer questions and go over the home tour brochure," Prudential owner/broker Cam Boyd said. "Or people can jump in a Realtor's car and go on the tour."
- To reach Tom Ross, call 871-4205
or e-mail tross@steamboatpilo.com