Past Event
Saturday, September 1, 2007, 9 a.m. to 3 p.m.
Steamboat Springs Airport, 3495 Airport Circle, Steamboat Springs
Not available / Free - $5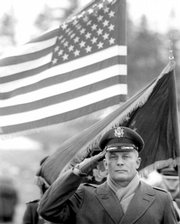 Steamboat Springs — Steamboat Springs residents and visitors have an opportunity to remember Gen. Robin Olds during the Wild West Air Fest this weekend.
Olds flew 259 combat missions during World War II and the Vietnam War. He shot down 17 enemy aircraft and was rated a triple fighter ace for his prodigious aviation talents.
Olds spent the last years of his life in the Yampa Valley. He died at his home in Steamboat on June 14.
Honoring the general is a focus of this weekend's Air Fest.
A color guard will assemble at noon Saturday for a salute to the flag, followed by a tribute to Olds beginning at 12:30 p.m. Former Marine pilot Jack McEncroe will speak briefly about Gen. Olds' remarkable military career. Next, people will be invited into the Mountain Flight Service hangar to view a 45-minute DVD of the History Channel program that detailed Operation Bolo, when Gen. Olds organized an ambush of North Vietnamese fighter jets that resulted in the shooting down of eight MIG-21s.
Former Naval aviator Ron Pollard will discuss Naval aviation and aircraft carrier operations during the Vietnam War at 2:30 p.m. Saturday.
The Air Fest is a diverse two-day event planned for Saturday and Sunday. Events and activities include a chance to view historical aircraft, fly in a bi-plane, helicopter or vintage T-6 Trainer, and even gain some practical flying skills using Microsoft flight simulators provided by Wings Over the Rockies, event organizer Gerry Denofsky said.
Denofsky expects five flight simulators to be available to the public.
- To reach Tom Ross, call 871-4205
or e-mail tross@steamboatpilot.com