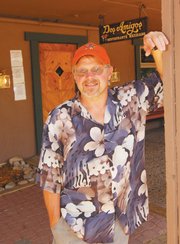 Steamboat Springs — Ski Time Square restaurant and bar Dos Amigos will open its doors for the last time this weekend. Owner Gary Baxter said saying adios to Dos will be a heart-wrenching affair.
"We're just going to cut loose," Baxter said. "I'm going to be walking around crying, I guess."
Baxter has been the sole owner of Dos Amigos since 2005; he has been at least a part owner since 1989, and he began working at the restaurant in the early 1980s. Citing rising operating costs and a 50 percent reduction in business because of construction at the base of the Steamboat Ski Area, Baxter announced last month that he would close the restaurant and bar.
Tonight, the band Jebus will perform at Dos Amigos. On its final day of operation Sunday, Dos will open at 3:30 p.m., and the Jee Mai One Mon Band will perform. Baxter said he is excited about the performance. Jee Mai performed at Dos every Wednesday for five years many years ago, Baxter said.
Baxter said he has been inundated with phone calls and e-mails wishing him well and thanking him.
"It's weird that they're thanking me," Baxter said. "I should be thanking them."
Baxter said he is considering opening Dos Amigos in a new location and has talked to Realtors and examined possible locations.
"I'm definitely open for that, but I haven't made that decision yet," Baxter said.
In the meantime, Baxter encourages people to come out and celebrate the closing.
"There's still time," he said. "And as soon as I can, we'll do it all again."
While Dos Amigos' departure is one of the first, all Ski Time Square businesses will inevitably be displaced in the near future. Ski Time Square, along with Thunderhead Lodge, was sold in April for $53.9 million to Washington, D.C., real estate developer Cafritz Interests. Cafritz and Colorado-based developer The Atira Group have made no secret of their plans to demolish and rebuild Ski Time Square.
Jane Blackstone, a development manager for The Atira Group, said remaining Ski Time Square tenants will be asked to leave the property next summer in anticipation of the demolition, which is slated for fall 2008. Construction of the new development would begin in spring 2009 and it would be at least two or more years before it is ready to be occupied.
- To reach Brandon Gee, call 871-4210
or e-mail bgee@steamboatpilot.com