Distilled soul
Funky 8traC ferments old, new sounds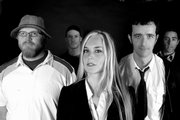 Past Event
Saturday, September 1, 2007, 10 p.m.
Mahogany Ridge Brewery & Grill, 435 Lincoln Ave., Steamboat Springs
21+ / $10
Steamboat Springs — A lot of bands list "funk" under their long list of genre influences. 8traC means it.
The Denver/Boulder based five-piece released its debut, "Falling Up," a year ago - drawing on their Motown cover band past to find an original set that is part hip hop beat, part soul-singed melody.
Guitarist/sampler Derek VanScoten spoke with 4 Points about the benefits of festivals, combining influences and finding yourself in a Stevie Wonder song.
4 POINTS: What has the band been up to since the last time it came through Steamboat in May?
DVS: Kind of a lot. We did a lot of festivals this year. There's actually been a lot of little things that have contributed to more national and international exposure for us. Wakarusa in Lawrence, Kan., was definitely one of them, because we were alongside a lot of other bands.
4P: How has the album (Falling Up) been doing?
DVS: It's getting airplay in 15 countries other than the U.S. - all over the world, in Europe, Australia and Canada. We've definitely been working on stuff, but it's not like we have a team of five people on the phone every day. We're a DIY band.
4P: How does that work for you with getting the music out there, doing it yourself?
DVS: Physical distribution is so costly. Online distribution is really the way to go, and you can pretty much get our music on iTunes or CD Baby.
It saves us all the headache of stocking and restocking, and in this day and age it really works for a small band like us to get the kind of exposure a band on a major label might get.
4P: So you started out as a Motown cover band?
DVS: I think overall, all five of us have played in more genres than I can count. The point of that all is not as a resume builder or anything like that, but how do we adequately distill all those influences into one cohesive sound.
The big vision for us, which I don't see a lot of people out there doing, is taking the grooves and beats of hip hop and dance music, and combining it tastefully with the melodies you could get in pop and folk music.
It's kind of an either/or thing these days. You have hip hop and it's killer and the beats are amazing, but I don't have a lot of friends who go to the Telluride Blues (and Brews) Festival who really get hip hop.
Our goal as individuals and as a collective is to be able to tastefully merge those two styles.
4P: Why do you say collective, instead of just band?
DVS: I use them kind of interchangeably. But maybe I say collective because we were all individuals with careers going before this group. Everyone is kind of bringing a lot to the table, and it's not that this is the only thing this group has ever done or will ever do.
4P:So how does your sound now come out of the Motown you started with?
DVS: From day one, this has been (lead singer) Chantel's (Mead) vision, and at the end of the day it will be Chantel's vision.
She grew up around a lot of oldies, and I think her original intention, which is kind of ingenious, is to kind of start where there's a million songs that are just killer that have been proven to be hits over the last 30 or 40 years. And just throw those in our songbook right away and in time have our originals filter into this sound.
It's combining the melodies of Motown with the beats of today.
4P: What does that sound like?
DVS: I just thought of this. In some ways - do you know who The Derek Trucks Band is? - he's been a little bit of a model for us. They're cool because they're a group that's really into soul music. But they're not just playing it down and being bored, they're questioning what in that music is still relevant.
That's the difference between a band that uses old music and a cover band.
A cover band is pure entertainment, whereas our thing from the beginning was, 'Let's cover a bunch of Stevie Wonder so we can really get inside it, so we can have some of the skills that he has in our music.'