Campgrounds to be sprayed
Routt forest sites to close for bark beetle extermination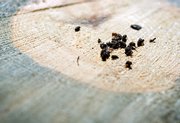 Steamboat Springs — When you've got termites, you call the exterminator. When you've got pine beetles, you call the U.S. Forest Service.
Beginning next week, several Routt National Forest campgrounds will be closed as a Forest Service contractor sprays lodgepole pine and spruce trees with a pesticide that officials say will prevent pine beetles from attacking the trees next spring.
In North Routt County, the Seedhouse Campground and group site and Hahn's Peak Lake Campground will be closed Tuesday and Wednesday. The Dumont Lake Campground and day use area and Meadows Campground will be closed Wednesday and Thursday. Both areas are on Rabbit Ears Pass. On Buffalo Pass, the Summit Campground will be closed Sept. 7.
Diann Ritschard, a spokeswoman for the Forest Service, said the closures shouldn't be too much of an inconvenience for visitors, and that the outcome is worth it.
"We focused on spraying developed campgrounds to maintain shade and to protect the outdoor atmosphere," she said Wednesday. "When you're camping, you expect to be in the forest."
Ritschard said the pesticide, Carbaryl, is not harmful to people. Spraying about 1,000 living trees from trunk to crown with Carbaryl will kill pine beetles when they attempt to bore into the bark of the trees, she said.
Ritschard added that while spraying the trees will prevent some destruction, officials expect many more trees to be killed locally before the epidemic ends.
"It's always sad to see that we're losing our big trees, but we try to look beyond to see the future forest," she said. "Nature has it figured out."