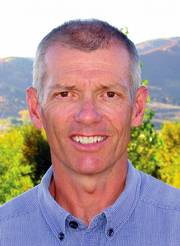 Steamboat Springs — Steamboat Springs School Board member Jeff Troeger said Wednesday that he will not seek re-election in November.
Troeger, the School Board's vice president, stated simply in an e-mail to the Steamboat Pilot & Today that he has "decided not to seek reelection to the (Board of Education)."
The announcement contradicts previous statements by Troeger, who recently said his motivation for a re-election campaign would be to "continue on volunteering."
"There are a lot of things we got started that I want to follow through with," he said in an Aug. 25 article.
Troeger, a professor at Colorado Mountain College for more than 20 years, won his School Board seat in 2003. His withdrawal from a re-election bid means Lisa Brown, whose candidacy petition was certified Monday night, is now running unopposed.
Now the School Board's senior member, Troeger was a vocal critic against the four-year contract given to former Superintendent Donna Howell in 2005 and voted in August to buy out her contract for $270,000.
The School Board is currently searching for an interim superintendent.
- To reach Mike McCollum, call 871-4208 or e-mail mmccollum@steamboatpilot.com