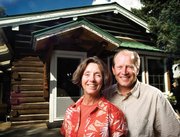 Steamboat Springs — Rob and Anita Hawkins live in a log cabin on James Street that was built in 1896 in Hahn's Peak. The cabin was moved to Steamboat Springs during the Great Depression to help provide affordable housing.
Two doors down, at the corner of James and Short streets, sits an ultramodern home that couldn't differ more from the historic cabin. The eclectic contrast of the neighborhood is something the Hawkinses like.
"We love the funk of downtown," Rob Hawkins said.
The Hawkinses believe it is the residents, not the regulations, that have given Old Town its flair, and they are among a growing group of citizens concerned by steps the Steamboat Springs City Council has taken toward revising its historic preservation ordinance.
Last week, City Council voted 4-2 to impose an emergency moratorium that prevents the acceptance of applications "for building permits that could result in the alteration of an exterior aspect of, or demolition permits for, any historic structure." Historic structures are defined by the ordinance as any building more than 50 years old.
Confusion and concern arose immediately, with even minor projects such as roof repairs and permits for buildings not historic themselves, but in historic neighborhoods, grinding to a halt.
There was some clarification of the moratorium's intent this week, with a process put in place that will allow projects "that will not significantly alter the historic character of any historic structure" to proceed. While that clarification cleared up many immediate concerns, there still is anxiety about the future. And major projects may be caught in limbo until spring.
"It is probably going to be an inconvenience for some people for some time," Planning Director Tom Leeson said.
Moratoriums
The intent of council's emergency moratorium was to halt demolitions and projects that would have a significant exterior affect on historic structures. To be legally defensible, however, the wording of the moratorium had to mirror that of the historic preservation ordinance and thus seemingly prohibited any application concerning historic structures, or structures neighboring historic ones. Leeson said such an interpretation wouldn't allow any permits at all in Old Town.
At Tuesday's City Council meeting, Leeson circulated a memorandum clarifying the moratorium's intent and outlining a process that would allow permit applications to at least proceed to the first step in the process, which authorizes Historic Preservation Specialist Laureen Schaffer to make a predetermination as to whether a proposed project will "significantly alter the historic character of any historic structure." If it is deemed the project will not, it may proceed.
Leeson said this clarification has allowed projects such as the repair of a leaky roof on Oak Street to proceed.
"It is no more onerous than what people were going through before the emergency moratorium," Councilman Towny Anderson said.
A more specific moratorium, which will go through the "regular" ordinance process, is being drafted and will likely replace the emergency moratorium. The first reading of that ordinance will take place at council's Sept. 4 meeting. It probably will be in place for several months while an advisory committee addresses permanent changes to the historic preservation ordinance.
"The important thing here is that the language says what it intends," Anderson said. "And what we intend is to prohibit the demolition of historic buildings for a period of time."
City Attorney Tony Lettunich described the city's historic preservation ordinance as one of mandatory review, but voluntary compliance. While the city's Historic Preservation Advisory Commission must review any project that could alter the historic character of any historic structure, the most the city can do is make recommendations and impose up to a 90-day waiting period on such projects.
The debate during the next few months will be whether to make compliance mandatory. There also likely will be a revision to the ordinance's definition of a historic structure; with most people seeming to agree that age alone is an inadequate assessment.
"I'd like to see protection of our historic resources," Anderson said. "I also realize our definition of historic resources or historic structures is too broad."
Anderson hopes the definition will be changed from a structure older than 50 years, to a structure that would qualify for inclusion in an accepted historic register, such as the National Register of Historic Places.
The future
The Hawkinses were among a group of citizens who attended Tuesday's City Council meeting to express concerns both with the emergency moratorium and possible revisions to the historic preservation ordinance. Rob Hawkins, an architect, said many of his clients' projects, including interior remodeling and replacing windows in nonhistoric homes, had been halted by the emergency moratorium.
"Nobody had an issue with the demolition of a historic structure," he said. "We went because town shut down, basically."
While those concerns were mostly addressed by Leeson's memo, Rob Hawkins said he worries about the future. He is troubled by what he calls Schaffer's broad power to decide what projects may proceed, without oversight or review.
"It's her way or the highway," he said.
Rob Hawkins believes mandatory compliance is a mistake.
"It should be incentive-based," Hawkins said. "We just don't see why it has to be forced on us."
Anita Hawkins, an appraiser, said revising the ordinance could unfairly hurt people's property values because buyers would be less willing to purchase a house if they feared they might not be able to improve it to modern standards. The Hawkinses put an addition on the back of their cabin and hope to remodel their front porch in the future. They feel it would be unfair to disallow them such freedoms simply because they live in an older home.
"Are we supposed to keep this like a museum for other people to walk through?" she asked.
While the majority of City Council is in favor of revisiting the historic preservation ordinance, Councilman Steve Ivancie said the current ordinance works just fine. He said he wouldn't be opposed to improving the definition of a historic structure.
"We didn't think it through," Ivancie said. "It's ill-conceived. We don't need to add teeth to an ordinance that's working just fine. My opinion, when it comes to private property, is that the owner's consent is paramount."