Hayden volleyball to build off winning season
Thursday, August 30, 2007
Hayden Volleyball schedule
- 10:30 a.m. Saturday vs. Roaring Fork at Aspen Tournament
- 1:30 p.m. Saturday vs. Eagle Valley JV at Aspen Tournament
- 3 p.m. Saturday vs. Aspen at Aspen Tournament
- 5:30 p.m. Tuesday vs. Baggs
- 6 p.m. Sept. 7 at Soroco
- 3 p.m. Sept. 8 vs. West Grand
- 6:30 p.m. Sept. 11 vs. Rangely
- 6:30 p.m. Sept. 14 at West Grand
- 6 p.m. Sept. 18 at North Park
- 6:30 p.m. Sept. 21 vs. Paonia
- 6 p.m. Sept. 28 at Plateau Valley
- 5 p.m. Oct. 2 at Baggs
- 6 p.m. Oct. 5 vs. Soroco (homecoming)
- 6:30 p.m. Oct. 11 vs. North Park
- 6 p.m. Oct 12 at Grand Valley
- 6:30 p.m. Oct. 16 vs. Meeker
- 6 p.m. Oct. 19 at Rangely
- 4 p.m. Oct. 20 vs. Vail Mountain School
- Time TBA Oct. 23, "pigtail" eighth-place playoff game
- Time TBA Oct. 26 to 27, district tournament at Rangely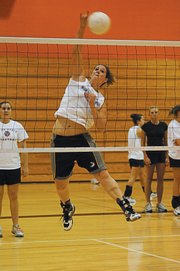 Hayden — At first glance, the Hayden girls volleyball team might look to be taking a few steps back after graduating eight of the varsity squad's 12 players.
But head coach Stephanie Davis said she is looking only to raise the bar.
Last year, in her first season with the Tigers, Davis coached the team to its first winning record in years (5-3 in league, 11-7 overall), to a No. 3 seed in the district tournament and to a fourth-place league finish.
Now, Davis thinks the team is on firm footing in terms of understanding the playing systems she has incorporated.
"Now, the kids know what to expect," Davis said before Wednesday's practice. "We've been working hard to compete and be one of the top teams in the league - in the top three."
Between the open gym volleyball and basketball sessions that most of her players participate in and the three-week preseason schedule of two-a-day practices, Davis is pleased with the strong turnout of "athletic and committed" players.
Holli Salazar said she'll welcome a day off - "finally" - after the Tigers open the season Saturday at a tournament in Aspen.
Salazar, a junior, returns to the varsity team as a key middle blocker.
"I think we'll have a good year. We've been working well as a team instead of arguing," Salazar said. "We want to go to state really bad."
Salazar will be joined at the net by sophomore middle blocker Rachael Koehler, while returning junior Kylee Sweetser and returning senior Jacquelyn Denker will be paired as the team's starting outside hitters. Davis said she plans to play junior Lissa Hoza at setter, junior Caitlyn Mahanna and senior Heather Wertenberger at opposite, and senior Janna Hoza at libero.
With other District 5 schools like West Grand and Rangely returning veteran players, Davis knows her team will need to continue progressing to match the elevated expectations that both she and the team have for the season.
Although Davis points to the Meeker, Rangely and North Park games as the team's crucial matches to landing in the league's top three, the girls also circle the Oct. 5 homecoming showdown against county rival Soroco.
"That one's always interesting," Sweetser said.