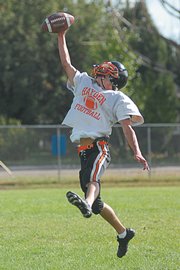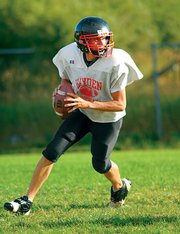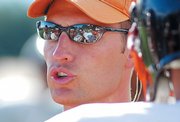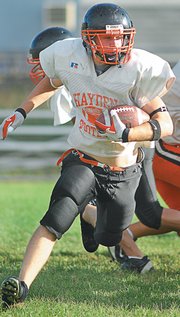 Hayden football schedule
- 7 p.m. Friday vs. Coal Ridge
- 1 p.m. Sept. 8 at Steamboat JV
- 7:30 p.m. Sept. 14 at West Grand
- 7 p.m. Sept. 21 vs. Paonia
- 1 p.m. Sept. 29 vs. Dolores (at Olathe)
- 7:30 p.m. Oct. 5 vs. Soroco (homecoming)
- 7:30 p.m. Oct. 12 at Grand Valley
- 7:30 p.m. Oct. 19 at Rangely
- 7 p.m. Oct. 26 vs. Meeker
Hayden — A year ago, not much was expected from the Hayden High School football team.
Certainly not 3,000 yards on the ground, 38 touchdowns and nine wins.
"They really took (those predictions) to heart," Hayden football head coach Shawn Baumgartner said about the 2006 team that played with a chip on its shoulder. The Tigers made it as far as the Class 1A state quarterfinals.
Now, the Tigers face a challenge from the other end of the spectrum - everyone expects them to put up big numbers. The Rocky Mountain News has Hayden No. 4 in its preseason Top 10, and the Denver Post ranks Hayden No. 6 in Class 1A.
"It makes it harder - you can take a program and make it better, but it's harder to stay there," Baumgartner said.
The players are keenly aware of the heads they turned last season and say they are up to the challenge of staying atop the Western Slope League (they shared the league title last year with Grand Valley).
"I think we're playing a lot more intense than last year," junior center Jake Magee said before Wednesday's practice. "We're not all rookies anymore. We all know what we're doing. It took intensity to get there, and it takes it to stay where we're at."
Baumgartner also is pleased with the number of returning players. He lost only four players from last year, meaning he can incorporate a more challenging offensive system.
"We have a lot of seniors that played varsity as sophomores, but we're still trying to teach so we can progress fast," Baumgartner said.
With quarterback Mitch Doolin now a junior with soaring confidence and physical maturity, Hayden will look to throw the ball more often to senior receivers Sam Kopsa, Aaron Haskins and junior Billy Zehner.
But don't expect the Tigers to stray too far from the ground game. Second team All-State running back Coy Letlow (a 6-foot, 185-pound junior) returns to anchor an extremely fast backfield with senior running back Russell Waugh and sophomore Jake Walker. All three clocked 40-yard dash times faster than 4.56 seconds.
On the defensive side, Baumgartner knows that "emotional leader" Brandon Ford will be tough to replace, but he isn't too worried because of the amount of senior leadership he can field. Waugh and Haskins provide experience at linebacker with the senior tandem of cornerbacks Kopsa and Zathan Bark in the secondary.
Baumgartner said the experience of playing a state powerhouse like Limon (their state quarterfinals foe) was invaluable in helping the current core of players understand "the next step." But even having scheduled two competitive non-league games for this season (Coal Ridge and Dolores), Baumgartner isn't looking too far ahead or expecting too much. Instead, he preaches this maxim:
"We want to be the best we can each week," he said.
Baumgartner's philosophy echoes that of his starting running back.
"Just one game at a time," Letlow said.