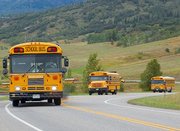 Steamboat Springs — When Joan Ausbury picked her child up from Strawberry Park Elementary School on the first day of school Monday, she described the scene as "chaos."
"I don't know if any of you have ever seen that in the morning, but I strongly encourage you all to drive by tomorrow," Ausbury told the Steamboat Springs School Board during its meeting Monday night.
Strawberry Park and Steam-boat Springs Middle School share a parking lot and entrance, which Ausbury said makes for a congested pick-up time when school lets out.
"Maybe you shouldn't go into that parking lot, because we don't need any more cars in that parking lot right now," Ausbury said, revising her suggestion to the board. "It's a safety risk, and I'm very concerned about my daughter and myself walking through that parking lot. I'm concerned I may hit a child in that parking lot. It's chaos."
Despite living on Routt County Road 36 - just a few miles from the school, Ausbury said she is disappointed the school district hasn't provided bus service to the 12 elementary school families who live along the road.
"We are concerned about the congestion in the parking lot, and those 12 cars make a difference," she said. "Kids were dropped off on the street and walking into the parking lot and up to the school because parents were trying to avoid the madness in the parking lot."
Ausbury added that she is disappointed the district approved the purchase of a new $109,870, 72-passenger school bus while a 12-passenger bus, which could be used to ferry the C.R. 36 students to school, remains out of service.
Ed Dingledine, the district's director of transportation, said the purchase of the new school bus was made with funds gifted by the Education Fund Board, not the school district. He also said the district may not have the money to pay additional bus drivers.
"We were over budget on wages and overtime last year," he said. "That's why we felt adding additional wages was inappropriate. I understand the concerns Joan has regarding that; I'd love to have as many buses out there as I can.
"There are additional places we could use buses in addition to that. But it's a matter of wage issues."
- To reach Mike McCollum, call 871-4208
or e-mail mmccollum@steamboatpilot.com