Steamboat volleyball stacked with experience and dynamic offense
Wednesday, August 29, 2007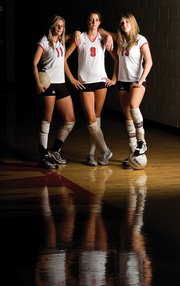 Season schedule
Times TBA, Aug. 31 to Sept. 1, Glenwood Tournament
6:30 p.m. Sept. 6, at Summit
1 p.m. Sept. 8, at Moffat County
6:30 p.m. Sept. 13, vs. Battle Mountain
1 p.m. Sept. 15, at Eagle Valley
6:30 p.m. Sept. 20, at Glenwood Springs
1 p.m. Sept. 22, vs. Rifle
6:30 p.m. Sept. 24, vs. Moffat County
5 p.m. Sept. 28, vs. Palisade
1 p.m. Sept. 29, vs. Delta
6:30 p.m. Oct. 4, at Battle Mountain
6:30 p.m. Oct. 5, vs. Eagle Valley
6:30 p.m. Oct. 11, vs. Glenwood Springs (homecoming)
1 p.m. Oct. 13, at Rifle
6:30 p.m. Oct. 19, at Palisade
1 p.m. Oct. 20 at Delta
Time TBA Oct. 27, Districts
Steamboat Springs — The sting of the loss has stuck with girls on the Steamboat Springs High School volleyball team since they left the Moffat County High School gym on Sept. 26 of last year.
Their first loss on the Bulldogs' floor in 16 years was a devastating one.
This year's Sailors, having lost only three players from the 2006 squad, already have the Bulldogs on their minds. Sept. 8 is highlighted on the Sailors' calendar - that's when they open their Western Slope League season, back at Moffat County.
Four seniors, all heavy contributors from last year, return to anchor an experienced and tight-knit team.
"All of us played in middle school together, so we all know how each other plays," said Heidi Lord, who will be joined by seniors Lizzie Stoll, Natalie Nichols and Katy Gary. Lisa Floyd, a 5-foot-11 senior who started as a sophomore but did not play last season, returns to complement the veteran foursome by bringing "a key passer into the system," head coach Wendy Hall said.
Perhaps the biggest void left from last season is that of setter Shannon King, who along with Gary earned All-League first team honors. Fortunately, another King - sophomore Colleen, Shannon's sister - is ready to step into Steamboat's ranks.
"I'm really psyched about Colleen - she brings a new attitude and does some different blocking," Stoll said.
"The King players are all really similar in their setting styles," Lord added. "They're all awesome and have the same style so you don't have to get used to something entirely new."
While King said she was excited to work on some new quick sets with junior teammate Maggie Kriz, Hall was excited to introduce only the second left-handed setter she has coached since Katie Moskowitz, who graduated in 1993.
"It enables you to hit from the strong side and opens a whole other offensive component," Hall said.
With Gary out for the first three weeks of the season, Hall sees the projected starting rotation as follows: King setting, junior Kacey Bull playing opposite hitter, Lord and Floyd as the outside hitters, Nichols and Kriz as middle blockers and Stoll at the libero position.
Hall saw 48 kids make the cut for all three Steamboat volleyball teams, the largest turnout she has had in five years. She thinks this group "has the talent to be successful," which means staying in the hunt to win the league, taking a shot at a state title and setting a winning example for the growing ranks of younger players.
But there is deep talent across a Western Slope League that last year produced the top two teams in District 7, Moffat County and Battle Mountain, as well as Class 4A state champion Battle Mountain.
"It's anyone's league this year," Hall said, pointing to powerhouses Palisade and Battle Mountain, a senior-heavy Moffat County and surging contenders from Eagle Valley and Delta.
Hall knows the big wins down the road will boil down to the intangible team elements that define success: "The key here is how they choose to relate to one another, this is the 'we' over the 'me' focus - if they choose to treat each other well and show commitment to the program, to the rules and loyalty to the team," she said.