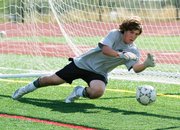 Season schedule
5:45 p.m. Thursday, vs. Summit
11 a.m. Saturday, at Vail Mountain School
5:45 p.m. Sept. 6, vs. Battle Mountain
11 a.m. Sept. 8, at Rifle
5:45 p.m. Sept. 11, vs. Eagle Valley
11 a.m. Sept. 15, at Glenwood Springs
5:45 p.m. Sept. 18, at Battle Mountain
11 a.m. Sept. 22, vs. Palisade
5:45 p.m. Sept. 25, vs. Moffat County
11 a.m. Sept. 29, vs. Glenwood Springs
4 p.m. Oct. 4, at Eagle Valley
11 a.m. Oct. 6, at Centaurus
4 p.m. Oct. 11, at Palisade
11 a.m. Oct. 13, vs. Rifle
4 p.m. Oct. 16, at Moffat County
Time TBA, Oct. 24, soccer playoffs, first round
Steamboat Springs — Ask Steamboat Springs head boys soccer coach Rob Bohlmann which game he highlighted for the fall 2007 season, and you get one stern response.
"Each and every one is highlighted," Bohlmann said.
Bohlmann knows that to match and exceed the success he had last season - a 9-5-1 overall record that earned the Sailors a No. 2 spot in the Western Slope League and a postseason berth - he will need to find the right mix of talent. Steamboat graduated a loaded class of 11 players that included five All-League players.
"It's definitely a totally new look," Bohlmann said. "So far, it has been a great mesh with the guys that got minutes last year and some of the younger guys."
Of the returning players who had significant contributions last year, Bohlmann pointed to seniors Bryce Peters, Kevin Bertrand and Michael Lyon and juniors Daniel Wright and Josh Fix.
Connor Birch, a sophomore goalie who got his licks last year when he was tapped to start Steamboat's first round playoff game in Longmont, looks to anchor the defense from the net. Two other notable additions include senior Sean Hurst, a transfer student from Elizabeth who Bohlmann called a "very crafty" player, and senior Aaron Calkins, an All-State basketball player for the Sailors who hasn't played soccer since middle school, but whose athleticism should make an impact.
The team's seniors admit they can't wait for their league home opener Sept. 6 against Battle Mountain - a team with whom they split games last year and contended for the league title.
"(The Battle Mountain game) seems like it's always the best because of the intensity everyone brings," Bertrand said before Tuesday's practice.
Knowing the league showdown is right around the corner, Bohlmann hopes to solidify positions quickly in the Sailors' first two non-league games, Thursday against Summit (5:45 p.m. at Gardner Field) and Saturday at Vail Mountain School.
"It's not going to happen overnight, but we do have an urgency in getting together," Bohlmann said. "It comes down to the fact that they're very passionate players and are working hard. The pulse rate in preseason has been solid. Now, we just have to get the minutes of playing in and expedite the experience."
The budding senior class doesn't seem too concerned with the new weight upon its shoulders.
"It's still hard because we're young, but we've done the whole bonding thing again and did decent in our scrimmage - we tied Summit, when they killed us last year," Bertrand said.
"As a whole, we have good team cohesiveness," Peters added. "We've got good talent. We'll pull it together."