Kindergartners begin first day of 'big-kid' school
Wednesday, August 29, 2007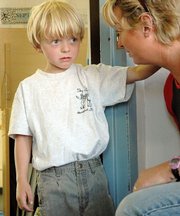 Steamboat Springs — Lisa Eck couldn't stop smiling as she videotaped her daughter, Lauren, in front of a Soda Creek Elementary School kindergarten class on Lauren's first day of school.
"We actually just moved here about five days ago," said Eck, whose mother, Jaime Frasier, also celebrated Lauren's big day Tuesday. "The first day of school is exciting - it's kindergarten, they can meet new friends and get into the groove of the school year."
Lauren joined 18 classmates in the morning half-day class. Kindergarten is not mandatory in Colorado, but more than 118 students are enrolled in the programs at Soda Creek and Strawberry Park elementary schools.
As Elena Rawlings, 5, strapped on a bike helmet and prepared to ride home in a new pair of galoshes, the kindergartner told her mom she met three new friends Tuesday. The second-generation Soda Creek student added she was happy to finally go to a "big girl school."
"Today was good. I knew she was ready, so we've been preparing for school for a while," Liz Rawlings said. "She is getting bored at home and preschool. She's ready to be a big girl."
Kindergarten teacher Georgia Ruest said the inevitable first-day tears were lessened because the students were able to visit the classroom Monday in small groups and prepare for the first day.
"We have children come in groups of four or five with their parents," she said. "They are here only 30 minutes, but they go through what a regular day would be like, find their books, go out in the hallway, sign in, sit down and do a daily job and find where the bathroom is."
Ruest said preparing the classroom in the George P. Sauer Human Services Center, which is being used to house kindergarten classes while a new Soda Creek is built just blocks away, was a challenge.
"It took me about three months to pack up the old room," she said. "We only got in the facility about a week ago, but we are so lucky to have this room. It is just perfect for kindergarten. It's a lot to set up a new room, but it went well."
Ruest and student teacher Sarah Burkhart stressed the importance of kindergarten and said they hoped the district would expand the program into an all-day class.
"Kids are ready for a whole day," said Ruest, who noted that students complain about transitioning back to a preschool later in the day after kindergarten lets out.
"At about mid-year, they start complaining that they don't want to go, no matter how good the program is," she said. "It's tough for parents. Most of them work two jobs just to live here. Public school should be providing (full-day) kindergarten at this time."
Eck said she is excited to see the socialization of having Lauren around a group of children her age.
"It's nice to see her have a little bit more of independence and get to go to school," she said. "There were a little bit of tears on the first day : she was nervous. She just wanted to make sure I was picking her up on time."