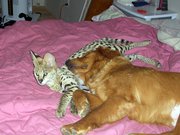 Steamboat Springs — When Sarah Larner opened the door to her Deer Mountain Estates home at 5:30 a.m. Friday, she was surprised to find that her two dogs had brought home a friend.
"This little guy came right to our front door," she said Tuesday. "He was pretty cool looking - gorgeous, actually."
Sitting on Larner's doorstep, near Elk River Road south of Clark, was the infamous Sir Sidney, a domesticated African cat, or serval. The serval had been missing since it escaped from owner Ken Koster in the Heritage Park area Aug. 4. Colorado and Wyoming wildlife officials said Tuesday that Koster, a resident of Alta, Wyo., could face severe fines for bringing the animal to Colorado, where it is illegal to possess or own a serval.
Sidney, who is not declawed but is described as "bashful" by Koster, is distinguishable by large, triangular ears and a lean body covered with black spots. Servals are wild African cats that feed on small animals including rodents, birds, insects, reptiles, fish and hares.
Koster was visiting his daughter, Kathy McKinstry, who lives in the Heritage Park area, when Sir Sidney escaped out of an open motor home window.
Koster ran ads in the newspaper offering a $500 reward for his beloved pet's return, and though Koster and his daughter received several "leads" none of them panned out until Friday.
"People in (Deer Mountain Estates) had seen him Friday and Saturday, and we finally saw him with a spotlight (Monday) hunting mice in a field," McKinstry said. "Apparently he'd done pretty well for himself."
After a brief struggle with a barbed wire fence, Koster picked up Sidney, who "did not want to be picked up," he said. Sidney eventually followed Koster back to the motor home, McKinstry said.
Koster was unavailable for comment Tuesday because he was driving home with the serval.
McKinstry said she was glad Sidney was found before the weather got much colder.
"I was worried especially with winter coming - since he's an African cat, I knew he wouldn't do very well in the snow," she said. "It was a happy ending."
Maybe.
Jim Haskins, district wildlife manager for the Colorado Division of Wildlife, said while the agency is glad the cat was found, Koster violated regulations of serval ownership and introduced a foreign species into the local environment.
"The biggest problem is you don't know what to expect," Haskins said. "It's an issue of introducing an exotic animal into native wildlife where it could be preying on native species, and there's always the issue of disease."
Haskins said he has been in conversation with Wyoming Game and Fish Department officials, who told Haskins that while Koster does have the appropriate licensure to own the serval, the animal was not supposed to cross state lines and was supposed to be caged at all times.
Wyoming Game and Fish officials did not return calls seeking comment Tuesday.
Haskins said he did not know when or if the DOW would fine Koster.
"We're looking into it," he said. "Hopefully this is a wake up call to (Koster) and the community that people need to get serious if they're going to have these things as pets."
-To reach Alexis DeLaCruz, call 871-4234
or e-mail adelacruz@steamboatpilot.com