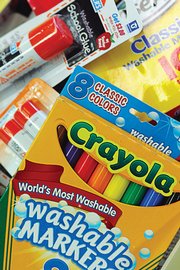 The late, great Sam Cooke was one of the most significant soul singers of all time. But Mr. Cooke was not the kind of guy you would send out with your youngsters to do their shopping for school supplies.
It was Cooke who scored a big hit in 1960 with "What a Wonderful World" (later covered by James Taylor) and sang the timeless lyric:
"Don't know much about geography
Don't know much trigonometry
Don't know much about algebra
Don't know what a slide rule is for.
"But I do know that one and one is two,
And if this one could be with you,
What a wonderful world this could be:"
Teachers everywhere cringed at Mr. Cooke's preference for rudimentary arithmetic even as they hummed the melody.
Truth be told, Sam, today's students know their geography, but none of them has a clue what a slide rule is for. Students in Steamboat Springs public schools are sent home with lists of school supplies that make calculators mandatory. I feel bad for all young scholars having to grow up without learning how to calculate logarithms on a wooden stick. They are truly deprived.
I'm pleased to report that as an elementary student I never wore a pocket protector. I did, however, start penmanship in the second grade with a messy ink cartridge pen. It left a smear on my paper when I dragged my left wrist through my writing exercise.
I have to confess to being the kind of nerdy kid who looked forward to a shopping trip to Kresge's five-and-dime to purchase school supplies. There was something about the smell of a fresh box of Ticonderoga No. 3's that made me want to do my homework. I'll bet there are those of you who can summon up olfactory memories that bring back the excitement of shopping for school supplies.
Of course, the most sought-after status symbol at Charles R. Van Hise Elementary School was a big box of Crayola 64 crayons. I endured a couple of years with boxes of 16 colors and nervously peeled the paper off my purple crayon as other kids leered at me. They were using the in-box sharpener to ready themselves for the day's map-coloring exercise - "Let me see now, what color should I make Bolivia?"
Not that I was disadvantaged in my early education - my mother happily sprung for myriad pocket folders, gum erasers and pointy-sharp compasses. I was never one of those kids who wanted superheroes, or, God forbid, Pretty Ponies on my pocket folders. Sky blue was fine with me.
Come to think of it, I was disadvantaged in some ways. I wonder how many of you lefties came up through public schools forced to use pencil sharpeners that were screwed into the wall and arranged exclusively for the convenience of right-handed children. It can be pure heck for southpaws to place the pencil in the sharpener with one's left hand and be forced to turn the crank with one's off hand. Somehow, I overcame my persecution complex.
Yes, I am a member of the "BP" generation - "Before Post-it Notes." Those were the days when you got in big trouble with the school librarian if you turned down the corner of a page to mark your place.
The school supply list for fourth-graders at Strawberry Park Elementary School this fall calls for four large glue sticks. What an amazing invention!
My generation always bought a pot of Elmer's white paste and spread the sticky stuff on our construction paper either with a plastic applicator or a wooden Popsicle stick. It was a process that was always messy.
It never occurred to us back then that the picture of Elmer the bull on the front of the paste jar was a not-too-subtle reference to the days when glue was made by boiling down bovine hooves.
For reasons I've never understood, there was always a paste-eater in my class in school - those one or two kids who were prone to eating out of their little pot of Elmer's.
Hey, school lunch wasn't that bad!