Photo Gallery
Students hit the books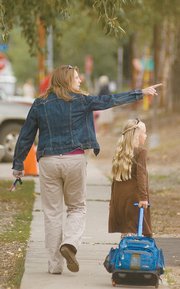 Steamboat Springs — Gabe Aigner was so excited for his first day at Soda Creek Elementary School on Monday that the first-grader awoke before his parents and was dressed and ready to leave a few hours early.
"He must have been excited to have woken up before we did," said Lauri Aigner, who along with her husband, Tim, bicycled to school with their son.
"It was his first day in first grade and he was very excited, so it makes it easier when the kid is excited," Tim said. "He hasn't been to the old Soda Creek, so coming to this, it's all new."
Gabe was one of nearly 2,000 Steamboat Springs School District students to return to classes Monday after a summer full of changes. Among them: the field adjacent to the George P. Sauer Human Services Center was transformed from a lush, green lawn into a temporary Soda Creek facility, four new administrators were welcomed into the district, and the School Board parted ways with Superintendent Donna Howell.
Soda Creek Principal Judy Harris said that despite all the turmoil, she was excited to get back to the business of educating children.
"So far, I'm ecstatic," Harris said as the last of Soda Creek's students were ushered from the gymnasium to their classrooms. "The kids are smiling, parents seemed supportive and ready for the school year. I couldn't be happier. Now, I'm saying that and it's less than an hour since we began."
Like the Aigner family, Tracy Metzler and her daughter, Christa, avoided Soda Creek's drop-off area Monday. District staff had warned parents that traffic could be a problem at the school, so Tracy and Christa, a second-grader, walked to class.
Metzler said Sunday night's Soda Creek open house helped ease any concerns she had about the temporary facility.
"I think it looks great," Metzler said about the school. "The district has organized it and planned it perfectly. I'm real confident everything will go fine."
Across town at Strawberry Park Elementary School, sweaty palms and a sleepless night before the first day of school not only plagued many students, but the new principal as well.
"There's always a bit of excitement on the first day, but this morning was wonderful," said Brenda Barr, who most recently was a principal in Colorado Springs.
"The parents were taking pictures outside with their kids, walking them to class and the traffic was pretty easy," she said. "And there were no tears today, so it was pretty easy."
Barr spent the morning visiting each class and introducing herself to students, many of whom had heavy eyelids Monday.
"Hi kids, did you know there is a new principal?" Barr asked a first-grade class. The students responded with a high-spirited "yes."
"Did you know it was me?" Barr added, which elicited a subdued reply of "no."
Steamboat Springs Middle School Principal Tim Bishop said his school dealt with some unexpected enrollment growth on the first day, which may require hiring additional staff.
"Our challenge immediately is that we have over 50 new students enroll in the last week and a half," said Bishop, who noted the sixth-grade class has grown from the smallest class in the school to the largest with the gain of 27 new students in the past week.
"So now we are facing the issue of space we are not expecting," he said. "That will play a part on how we evaluate our class sizes."
Steamboat Springs High School Principal Mike Knezevich said he too is enduring enrollment growth, and without any extra space to put students, school staff needed to be creative in juggling class schedules.
"We were counting on 670 (students)," said Knezevich, who noted about 710 students showed up for the first day. More are expected to enroll later this week.
"That would have been the biggest high school (enrollment) there has ever been, regardless," he said "We are going to turn some areas that were not classrooms into classrooms."
Knezevich, who had hip surgery this summer and toured the school Monday with a cane, received some well wishes from junior Sara Williams.
"I promise to be nice to Mr. Knezevich this year," said Williams, adding she was "bummed out" about the return to school. "But all the freshmen seem excited."
- To reach Mike McCollum, call 871-4208
or e-mail mmccollum@steamboatpilot.com