Parents, students check out temporary Soda Creek facility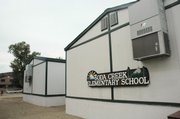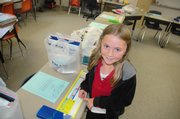 Steamboat Springs — Soda Creek Elementary School Principal Judy Harris knew the transition into the temporary school facility would be OK when one of her teachers compared the move to the "Three Little Pigs."
"We kind of went from the house of hay to the house of sticks, and we are going to the house of bricks," Harris said. "What a wonderful thing, personally, to hear that the teachers see this as a step up from some of the challenges we had at the old school."
Teachers began preparing their modular classrooms at "Camp Soda Creek" last week for today's first day of school. On Sunday, students and parents had a chance to see the facility for themselves.
"I'm happy with it," Tamara Lewis said as her daughter, Shannon Day, toured her third-grade classroom.
"When I was a little older than her, I went through the whole scenario of trailers and a new school, too," she said. "It was actually my favorite grade."
The temporary classroom facility built in the field adjacent to the George P. Sauer Human Services Center will house students in 13 modular classrooms as a new Soda Creek building rises from the ground just down the street. School district officials hope the new school will be ready for the start of the 2008-09 school year.
Preparing for her first day of school, Shannon arranged a notebook and nameplate on her desk, while her mother spoke with teacher Rebecca Dybas.
"I wish we had taken before pictures of the classrooms and put them up on the wall, because I had furniture up to the ceiling, and now it's actually like a classroom," Dybas said. "It's a fresh campus and we don't have poles in the middle of our rooms."
Third-grade teacher Holly Curtiss said she too prefers the modular trailers to the old Soda Creek school, which had poor ventilation and lacked other comforts.
"I mean, I have a window with blinds," Curtiss boasted. "And I think the parents are really excited as well. They have all been so excited. They say, 'This is so much better than I thought.' They love the classrooms and they say it's even better than the ones they had last year."
Harris said school staff understands students will need a transition period to get up to speed in their new school. To make things easier, corridors between classrooms have been given street names, such as Main Street, Soda Creek Lane and Camp Road, to help students orient themselves on campus.
Fourth-grade teacher Elena Birchby said she anticipates some growing pains, such as students finding the bathrooms and the lunchroom routine, but she noted a lot of work has gone into preparing the school for students.
"I think there is a definitely faith in the community, and I hope we can follow through with that," she said. "My feeling is that it will be like any other year in that academics, socialization and the curriculum won't be any different. I'm looking forward to it."
Nate Anderson, who's daughter Meg is in Sue Barnes' third-grade class, said he's pleased with the temporary facility, but he noted he's interested in "how it plays out."
"Right now, it's static," he said. "You are just looking at it. It's on display. It's like looking at a car on the showroom floor. It may look sharp, but you've got to take it for a test drive. The first week will show how things will turn out."