If you go
What: Routt County Board of Commissioners hearing to amend and extend Xcel Energy's special use permit to allow overweight and overlength coal trucks on Routt County Road 27 between Twentymile Coal Mine and Hayden Station
When: 2:30 p.m. Tuesday
Where: Commissioners hearing room in the Routt County Courthouse Annex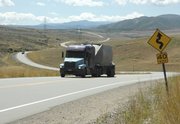 Hayden — Bigger is better.
At least, that's what Xcel Energy officials say about the trucks hauling coal on Routt County Road 27, a hilly, curvy and accident-prone highway.
At a hearing with the Routt County Board of Commissioners on Tuesday, the company will look to extend its special use permit to haul coal on C.R. 27, also known as Twenty Mile Road, from Peabody Energy's Twentymile Coal Mine to the Hayden Station power plant. The company also hopes to begin using trucks that would pull two trailers of coal instead of one.
Chad Phillips, county planning director, said Xcel was issued a 10-year permit in 2003 to haul 1.8 million tons of coal annually. The use of single-trailer trucks was a condition of that permit until road improvements, paid for by Xcel, were completed. After improvements, the county road and bridge director might allow exceptions to weight and length restrictions, according to the permit.
Those improvements aren't done, but Phillips said they are mostly complete on the stretch between the mine and Hayden Station. Nine inches of asphalt have been added to the road, Phillips said.
Road and Bridge Director Paul Draper said he is "absolutely" in favor of allowing Xcel to use the larger trucks.
"Any safety concerns are offset by they fact that there are half as many trucks on the road," Draper said.
Mark Stutz, an Xcel spokesman, said trucks make 425 trips daily between the mine and the power plant. Each truck hauls 25 to 35 tons of coal. Allowing trucks to pull a second trailer would cut the number of trips in half, Stutz said, with the trucks carrying up to 70 tons each. Stutz said fewer trucks would mean less of an impact on local traffic and result in a safer road.
"It is just more efficient," Stutz said.
Dick Klumker is the manager of Links Freight Management, formerly Pirate Trucking, in Hayden, the company that provides trucking services for Xcel. Klumker also is a member of the Routt County Planning Commission. He said the larger trucks are safer, not just because they reduce numbers, but also because they have more axles, more braking power and will travel slower.
"This is a significantly safer option," Klumker said.
Others disagree, doubting truck drivers will slow down in their heavier vehicles.
"I don't mind the trucks on the road," said Tina McGoran, who lives with her family on C.R. 27. "I just want them to slow down."
McGoran said she and her neighbors constantly worry about their children because trucks sometimes pass her house at speeds well more than the posted speed limit of 50 mph.
Bill Mitcelfeld, an engineering consultant who often drives C.R. 27, said the larger trucks might be less safe because they won't be able to stop as fast, especially if they continue at current speeds.
"It's still a very dangerous situation out there," Mitcelfeld said. "I just want the road to be safe. I'm not out for Xcel or anything."
Mitcelfeld said he was comforted Friday after talking to an Xcel official who told him the trucks would be outfitted with GPS devices that will allow the company to monitor speeds from Hayden Station.
"If they do everything they said they're going to do, personally, I think they'll be gains over the past," he said. "If they drive slower, I couldn't argue with it."
Don Hayes, a Hayden resident and trucker since 1991, said there are many other concerns besides speed. Hayes said he worked for Links for 16 months as a lease driver and developed concerns ranging from the qualification of drivers to the quality of the company's equipment.
"My biggest (complaint) with Pirate is their lack of concern with safety," Hayes said.
Klumker said drivers pulling the double trailers have received specialized training.
Hayes said the company let him go after he began making noise about his concerns with the truck route to county officials. Hayes believes the hills on C.R. 27 are too steep for the large trucks, which may be pulled backward by their weight, especially in foul weather. He also said more passing lanes are needed to allow other traffic to get around the large trucks when they are creeping up hills.
Draper said more passing lanes will be constructed in the future and that the trucks will use flashers when traveling less than 30 mph.
or e-mail bgee@steamboatpilot.com