Stagecoach condos get facelift
Wagonwheel owners get together to improve their homes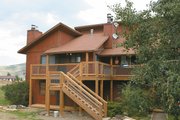 Steamboat Springs — The homeowners at one of the older condominium projects in Stagecoach were planning to meet this weekend to talk about rebuilding the playground at Wagonwheel.
It may not sound like a big deal, but for the 41 owners at Wagonwheel, a new playground would be emblematic of the new pride being taken in the project.
"It's amazing how many new owners we have," Deanna Mathey said. "Everything has turned over, and everyone has a lot of energy. We want this to become the kind of affordable place that you want to live in. The new people didn't pay $50,000 for their condos, they paid $180,000."
Wagonwheel was built in the early 1970s when the original Stagecoach developers were still intent on developing a viable companion to the Steamboat Ski Area. Wagonwheel condominiums languished without much surrounding development for more than 30 years.
Mathey became president of the Wagonwheel Homeowners Association in the spring. She organized the homeowners to spend $197,000 to rebuild the front decks and external staircases on the homes. For their money, they will get new 6-by-6 timbers, maintenance free decking. High-maintenance deck spindles will be replaced by heavy steel wire. The general contractor is A.J. Gale Builders.
"He gave us a very competitive bid, and he's been very easy to work with," Mathey said.
The 10-year plan includes rebuilding the rear decks within a couple of years, followed by new siding and roofing down the road.
"We can do a lot of things like replacing flashing and planting trees that don't cost much money, but make a big difference," Mathey said.
Mathey and her husband, Travis, have lent expertise to their homeowners association. She studied mechanical engineering at the University of Colorado in Colorado Springs, and he is an architect at Vertical Arts in Steamboat Springs.
Realtor Darrin Fryer of Prudential Steamboat Realty praised the Wagonwheel HOA for upgrading to make the condominiums compare more favorably in the current market.
Homes at Redhawk Village developed by Mountain Valley Communites are nudging $500,000. Fryer said, as homes in the nearby Young's Peak subdivision are built, Wagonwheel owners can present a more affordable alternative if they continue to upgrade, Fryer said.
He has listed the Matheys' three-bedroom Wagonwheel unit for $229,000 as his clients seek to move to a single-family home. It measures 1,230 square feet and has undergone an extensive interior remodel as well.
"The whole place looks completely new," Fryer said.
One two-bedroom Wagonwheel condo went under contract this summer for $180,000, Fryer said. It was a "fixer-upper" that drew multiple offers, he added.
Fryer said he has a view lot in Youngs Peak overlooking Stagecoach Reservoir listed at $184,900. With building lots approaching $200,000, new homes will almost certainly begin at $500,000, he said.
Things are changing rapidly in Stagecoach and ironically, the Matheys have put a new home in Hayden under contract after deciding they couldn't afford to upgrade in Stagecoach.
"I'm at home taking care of two children. We looked in Stagecoach and couldn't find anything for less than $400,000," Mathey said.
She's convinced that just as Stagecoach is quickly becoming a cohesive neighborhood of young families, her own family will find the same thing in Hayden.