Sailors' tennis celebrates back-to-back victories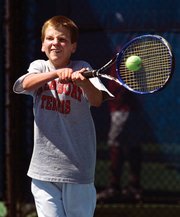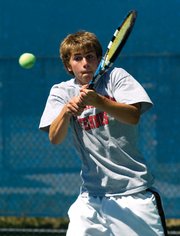 Steamboat Springs — It was one of those matches we'll look back at in two months and say, "Matt Gadbois is a better player for playing it."
Gadbois - who spent last year playing No. 3 doubles for the Steamboat Springs High School tennis - lost a hard-fought, three-set match to Colorado Academy's Tony Karner at No. 2 singles.
But Gadbois showed something coach John Aragon's been looking for.
Gadbois fought back from being down, 4-1, in the third set to close within one game, at 5-4. After Karner went up, 40-15, in the final game, Gabois pushed it to deuce. He then fended off match point four times before a Karner cross-court shot fell just out of a sprawling Gadbois' reach.
"This is one of the best matches I think I've ever played," Gadbois said. "I wouldn't trade it for anything. I mean, I wish I would have won, but I'll see him again in regionals."
Gadbois' match was just one in several highly competitive ones Steamboat and Colorado Academy waged.
While the Sailors won, 5-2, three of the seven matches went to a third set.
Only Steamboat's No. 1 singles player Ramsey Bernard, No. 2 doubles team of Keegan and Jack Burger and No. 3 doubles team of Alex Gibbs and Zach Valicenti finished off opponents in two sets.
"I played pretty solid," said Bernard, who beat Thomas Sisk, 6-4, 6-2. "I'm pretty happy with my game right now."
No. 3 singles player Jeff Lambart and the No. 1 doubles team of Charlie Smith and Jordan Bernard also scored wins for the Sailors.
Considering what a young team Steamboat has, Aragon said the competition - especially this early in the season - will help them achieve the team's main goal of winning a 10th consecutive regional title.
"This was huge, because every match was tough," Aragon said. "There weren't any freebies out here. It was good to see some of these young kids step up and play under pressure and win matches."
The Sailors are now 2-0 on the season. They next play Sept. 6 at Fruita.