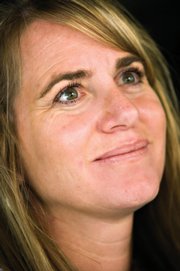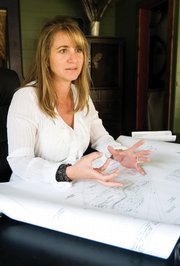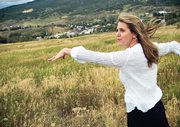 Oak Creek — Asimple Jose Bergamin quote topping four pages of Oak Creek Mayor Pro-Tem Angie KenCairn's notes on the town's comprehensive plan seem to set the tone for the direction the town is heading in.
"Tradition simply means that we need to end what began well and continue what is worth continuing," it states.
In recent months, the Oak Creek Town Board has struggled with balancing its budget, improving infrastructure, addressing looming annexation proposals, updating its outdated comprehensive plan and formulating a plan that will help the town answer the door when developers start knocking.
"We want to provide a good basis to work with developers to do the right kind of development for Oak Creek," she said. "It's a dance."
KenCairn, who is spearheading the comprehensive plan project, said she is confident the town is doing the right thing by moving slowly, asking the right questions and updating policies that are meant to keep Oak Creek "a community of choice."
"We're not a naÃive board," she said. "We see what's coming. We see this 'lifestyle economy' driving the area right now. We know it's going to be with us a long time. What we're grappling with now is how to harness that energy without it steamrolling us."
The town's comprehensive plan, which hasn't been updated in a decade, outlines how the town wishes to grow in the future, including growth boundary areas. The board agreed earlier this year that one of the town's top priorities was to update the plan instead of completely redoing it.
KenCairn, who has been working with local and state officials for months on securing money for the project, said the town could be making significant strides by the end of the month.
On average, it costs about $10,000 to $50,000 to complete such a project, she said.
The board has agreed that revisiting the town's annexation policy, affordable housing and land-use codes are three of the biggest areas the town wants to review before addressing projects coming down the line.
Not anti-growth
While developers, realtors and some community members are quick to point fingers in calling the town "anti-growth," KenCairn said that isn't the case.
Instead, the board has agreed it is more important to make sure the kind of growth that Oak Creek is seeing and will continue to see is what the town wants and, to an extent, needs. That means making sure there will be affordable housing for young families moving to the area and controlling how fast and how much growth comes online at once.
"We don't want to be seen as an anti-growth community," she said. "We know we need some self-sustaining growth to bring in new businesses and support our existing businesses. We know we can't just sit on our hands, but we really have to make sure if everything is going to pencil out."
Chuck Wisecup, chairman of the Oak Creek Planning Commission and a Town Board member, said what the town needs now is affordable houses built on empty lots.
"What we've got right now is people sitting on these empty lots wondering when are they going to pull the trigger and sell it?" he said. "My goal is to get housing on the ground that will bring families here and put kids in our schools."
Heather Kline, a Stagecoach resident and owner of Lynx Funding in Oak Creek, has proven to be a catalyst in the ongoing discussion about Oak Creek growth.
Kline and her sister, Jennifer Darling, proposed a 24-acre annexation that could have put as many as 17 homes on a parcel of land north of the town. In May, the town denied the annexation's conceptual plan, citing the need to update the comprehensive plan before making any decisions about future growth.
However, Kline has taken into consideration what the board has said and is ready to move forward with a revised conceptual plan.
The new proposal includes building 20, "100-percent" affordable homes on the lots, she said. The homes would sell for between $215,000 and $315,000, she said.
"I want to work with the town on what the town wants to see there," she said.
Kline said her proposal would benefit not only Oak Creek, but also the entire South Routt community.
"This would bring true affordability and fill a big void in South Routt," she said. "I don't have this, 'I'm a developer, here I come' mentality. I just wanted a little community. I wasn't going after developing Oak Creek."
Wisecup said Kline's new proposal could be a better option for the town.
"We're not particularly interested in seeing developments with empty lots out there," he said. "If this revised conceptual (plan) pans out, it may be in line with some of the discussions we've been having."
Kline is scheduled to come before the Oak Creek Planning Commission at 7 p.m. Sept. 19. Community members are encouraged to attend the meeting to provide feedback on the proposal.
However, KenCairn said it might still be too soon to make decisions on such projects.
"While it sounds wonderful, until we update our comprehensive plan and I hear from the people about how they want to grow and where, I'd still be nervous about making any hard and fast decisions," she said.
Reading between the lines
Affordable, attainable or starter housing isn't just an Oak Creek issue. Providing housing for residents in all areas of Routt County is something all officials are struggling with.
Noreen Moore, business resource director for the Routt County Economic Development Cooperative, said she has been talking to communities across Routt County about how to best plan for the future.
"Right now, Oak Creek is in a position to define who they are so when they deal with developers, they know what they want, and they're not at the effect of the developers," she said.
Moore said she suggests communities plan for growth as if what they are experiencing now will continue.
"It's a great opportunity for all these communities to define how they want to be in 20 years. That's the big issue," she said.
Moore spoke to the Town Board during its Thursday meeting to address some of the growth issues the town is facing and to hear some board members' concerns.
"The fact that they're asking questions is good," she said. "You can't look at other towns in (Routt County) and say, 'Oh, they did this. They did it.' It's a different ledger sheet. What's going on in South Routt is a different frame."
KenCairn said understanding that Oak Creek is a "character-based" town is helping the board understand how it wants to grow.
"We have a really engaged board right now," she said. "What's great about us is we are very diverse - we all have our own voices and opinions. We balance each other out very well."
KenCairn said she hopes town residents will become more involved in the process and help the board understand their concerns.
"What's wonderful is we're asking the right questions, we're taking the time and doing the research," she said. "We're not going to rush into anything."
Wisecup agreed.
"We're so progressive now," he said. "Both boards are really looking at things and making the best decisions we can, because growth is inevitable."
-To reach Alexis DeLaCruz, call 871-4234 or e-mail adelacruz@steamboatpilot.com