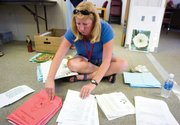 If you go
What: Soda Creek Elementary School Open House
When: 4 to 5 p.m. today
Where: George P. Sauer Human Services Center at Seventh and Pine streets
Steamboat Springs — Summer was a season of change in the Steamboat Springs School District.
The field adjacent to the George P. Sauer Human Services Center was transformed from a lush green lawn into a temporary Soda Creek Elementary School facility. Four new administrators were welcomed into the district, and the School Board parted ways with Superintendent Donna Howell.
"It's the nature of the beast," said new Strawberry Park Principal Brenda Barr, who noted summers inevitably have brought significant changes to every school district she's worked in.
The changes may be notable, but on the eve of the new school year, many parents, school staff and district officials say there is an excitement in the air.
Camp Soda Creek
When Julie Ernst learned her son Jackson would spend at least one year in a mobile classroom facility while a new Soda Creek is built, she was "disappointed," but her initial reservations have lessened as the school year nears.
"It's not the most ideal situation for a student," she said. "And my first reaction to the (traffic) plan was that I was disappointed the city was unable to allow Pine Street, between Seventh and Eighth (streets) to be one-way - even during school hours."
Ernst said she plans to attend a "Camp Soda Creek" open house at 4 p.m. today at the temporary school site.
"I received a phone call from his teacher inviting us to come, and the communication has been quite wonderful," she said. "I think the open house (today) will be very good and help release the stress of the first day of not knowing where to go."
Soda Creek Principal Judy Harris said today's open house gives students and parents a chance to wander through the classrooms, see the school site and prepare for tomorrow morning's return to school.
"We'll be opening up the modulars, and parents can see where their child is going to be," said Harris, who noted the open house is for first through fifth grades. "The classroom teacher for each child may not be present. This isn't the time to meet the teacher. This is a time to see the classroom environment."
Three drop-off areas have been designated for the Soda Creek site. Students in first through fourth grades are to be dropped off on Seventh Street. Fifth-graders are to be dropped off on Eighth Street. Preschool parking also will be available on Eighth Street.
"On Monday morning, we want to reduce the impact on parking and the neighborhood," Harris said. "If parents feel comfortable after seeing the classroom (tonight), then just drop off the kids or have them take the bus."
Kindergartners should be dropped off on Seventh Street at the corner of Aspen Street. School buses also will drop students off on Aspen Street. School staff will usher students directly to the gym prior to going to classrooms.
"Nothing works for every student," she said. "If a parent has a particular need to come to the gym with their child, we understand that. We are not trying exclude parents."
New faces
Across town at Strawberry Park, Barr said the hospitality she's experienced since she moved to Steamboat earlier this month has made the transition to town "incredible."
"It's been very busy, and there's been lots of questions and lots of stuff to do," she said. "But my staff has helped me immensely, calling and asking me questions, letting me know what to do."
Barr said she is thankful she doesn't have to endure a temporary school facility, but she said Strawberry Park students also will cope with the pains of school construction.
Six modular classrooms will be replaced by a 10-classroom addition, and the school's heating and ventilation system will be replaced.
"My staff are veterans, and they know exactly what to do, even with the construction," she said. "I'm there for support and make sure everybody is in the right place."
A new director of curriculum and instruction, JoAnne Hilton-Gabeler, also joined the district this summer, along with Director of Food Services Max Huppert and grant writer Ruth McBride.
The search continues
Continuing to be missing from the district is a superintendent.
On Aug. 10, the School Board voted to buy out the remaining two years of former Superintendent Donna Howell's contract, paying her $270,000, in addition to $37,500 in personal and vacation leave, in exchange for her resignation.
School Board President Denise Connelly said after Howell's buyout that she hoped to have an interim superintendent in place by Sept. 1, but she noted Thursday that the board likely will not fill the position for a few more weeks.
Connelly said the district has a list of "very qualified candidates" that has been developed from suggestions from the Colorado Association of School Boards and those who have contacted the district independently.
She said the School Board is looking for volunteers to help in the interim superintendent search, including stakeholders such as school principals and assistant principals, school district directors, teachers, support staff, parents and other members of the community.
"We'll be soliciting questions from the community as a whole," said Connelly. The committee will not vote on the interim superintendent, but will be able to sit in on the interview process and provide input to the board.
School Board race
Other changes in the district may be on the horizon. Three of the five school board seats are up for grabs in the November election.
Education Fund Board President Robin Crossan became the first official candidate for one of the seats Friday when the district verified her petition.
Board members Jeff Troeger and Jerry Kozatch also have said they intend to run for their seats, but none have turned in a completed petition.
Steamboat Springs resident Lisa Brown confirmed her candidacy Wednesday, although she has yet to turn in her nominating petition. Brown plans to run for the District 2 seat held by Troeger.
Despite all the changes, Harris and Barr stressed that staff throughout the district are eager and ready to welcome students back to school Monday.
"They are going to have fun. I'm really not worried about it," said Barr, who joked she'll likely be in her office at 4 a.m. filled with excitement and ready for her "first day" on the job.
"The reason kids will freak out is if parents freak out," she said.