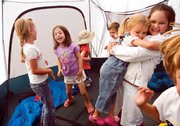 Steamboat Springs — Kim Kreissig said that without the Discovery Learning Center's early childhood program, she would be "totally lost."
"I'm a working mom, and if a program like this wasn't in place, I'd have to find some other way to have childcare during the day," said Kreissig, whose 4-year-old son, Jackob, is about to enter the preschool program at the center in Steamboat Springs.
"My daughter, who is now about to enter second grade, went through the program, and we've never had a problem with her wanting to learn," she said. "The benefits of these programs are two-fold. They help working parents, and it instills principles of lifelong learning."
Tami Havener, the center's executive director, is on Gov. Bill Ritter's P-20 Education Coordinating Council, a panel formed to explore education reform. She said the center's expected outcome for children is that they are "confident, competent and caring" as they enter the traditional K-12 education system.
"I think what we are seeing now, especially with new administration at the state level, is a real focus on the entire P-20 continuum," said Havener, who noted the center is funded from parent-paid tuition, the United Way and city and county funds.
"At the P-20 Council, we are looking at everything from three- to four-year-old, publicly-funded education to full kindergarten, leading through the university level," Havener said. "We are also looking to see if teachers currently in public schools, grades K through third, need training in specialized education," she said.
On Thursday, Lt. Gov. Barbara O'Brien hosted an early childhood education forum at the Steamboat Grand Resort, one of many she is scheduled to organize statewide. O'Brien hopes meeting with parents, teachers and early childhood councils will provide insight into the complexities of supporting children and families in Colorado.
"When I was president at the Colorado Children's Campaign, we partnered up with a group of business leaders and created the first public preschool program in Colorado," said O'Brien, who currently is co-chair of the P-20 council. "And it has now been in operation long enough (for) the first couple of classes to graduate from high school, and they have a higher graduation rate than the state average."
"These are kids who are homeless, you have teen parents, you already have a language delay and you have parents who are dealing with substance abuse. These are kids in desperate situations, and to end up with a better graduation rate than the state as a whole is a remarkable accomplishment," she said.
O'Brien described the preschool years as the "sponge years" and said the pilot program convinced her and the governor that education reform needs to start at the preschool level.
"We said, 'let's take preschool seriously, lets make it part of education reform instead of leaving it out there with just childcare,'" she said. "Let's attack the drop-out rate. Lets increase the number of kids who go to community college or college. Let's have this robust agenda from preschool all the way through university-level education in Colorado."
Stephanie Howle, director of First Impressions of Routt County, an early childhood council that coordinates various family resources in the area to encourage collaboration, said it has become harder for families to succeed in Routt County.
"With the growth we are experiencing in Steamboat, it is harder and harder for families to make it here," she said. "It's easy for more people not to be aware of what's out there."
Bob White, the county's director of human services, which helps fund and administer the First Impressions program, said while there currently are no publicly-funded preschool programs in Routt County, high-quality childcare and education is available in the area.
The department of human services will help fund preschool programs, such as the Discovery Learning Center, for parents who earn up to 185 percent of the poverty line, White said.
"For a family of four, that's about $40,000," he said. "But if we just look at how we pay for childcare, we miss the big picture."
There are four domains to early childhood care, White said - education, mental health, public health and parental involvement.
"It's in the interest of the community to foster all four domains for the development of a child," said White, who noted 90 percent of brain growth occurs before age 5.
O'Brien said she understands expanding publicly-funded care to include pre-natal care will be a costly endeavor, but she noted Ritter has instructed her to not worry about funding and to focus on developing the right goals for the state's education system.
"We will then work back from the right goals to where we think we can pragmatically accomplish what's best for our children," she said.
Kreissig, who spent Saturday taking her children to the Denver Zoo, said she has taken time off work this summer to be with Jackob and her daughter, Taylor.
As school starts at Soda Creek Elementary School for Taylor tomorrow, Jackob will start at First Impressions. Kreissig said it would be a day with a few tears, just as every first day elicits some sadness in saying goodbye, but she knows harvesting the "sponge years" is essential.
"I don't think I can weigh the benefits of instilling a love of learning at an early age," she said. "It's so important to have these resources available in our community."
For more information on early childhood care and education in Routt County, call First Impressions at 870-5270.
- To reach Mike McCollum, call 871-4208
or e-mail mmccollum@steamboatpilot.com