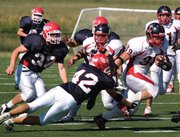 Season statistics
Steamboat
First Downs 18
Rushes-Yards 36-123
Comp-Att-Int 8-9-0
Yards Passing 79
Total Yards 202
Punts-Avg. 3-42
Fumbles-lost 1-1
Penalties-Yards 6-35
Score by quarters
Steamboat 00-03-13-07-23
Kent Denver 00-08-06-00-14
Rushing
Hanley 23-104, 1 TD; Hammond 8-20, 1 TD; Fraser Egan 3-6, Austin Hinder 2-(-7).
Passing
Hinder 8-9-0, 79 yards.
Receiving
Cody Harris 3-45; Hammond 2-16; Egan 1-4; DeLine 1-4.
Watch the game
Catch the replays of Sailors football games at 10:30 a.m. and 8:30 p.m. Sundays and 8:30 p.m. Wednesdays on Steamboat TV 18.
Steamboat Springs — There might not be a more valuable game of the 2007 season than Steamboat Springs' 23-14 victory against Kent Denver.
In terms of what it means to a team as dynamic as Steamboat, the win can't be underestimated.
For the handful of sophomores and first-time starters as well as the seniors demonstrating just what it takes to win, Sailors head coach Aaron Finch said Friday's win - although against a non-league opponent - can't be judged solely on the scoreboard.
"That gives you hope for what kind of football team you can be," Finch said. "To learn as much as we did and still get a win, that's something that's extremely helpful."
It's especially important, Finch said, considering just how the game went.
On Steamboat's first offensive possession, sophomore quarterback Austin Hinder mishandled the ball and gave Kent Denver a first and 10 inside the Steamboat 15-yard line.
But instead of getting discouraged, the Sailors rose to the challenge, forcing the Sun Devils to turn over the ball on downs.
"Coming out of the game, to have made some of the mistakes and still get a win, on the one side, you feel lucky, and on the other side, we made some outstanding plays there," Finch said. "You're going, 'OK here's what we're afraid of with a young team.' But the bigger statement was that was our only turnover of the entire game."
Once the jitters of the first varsity game wore off on the young Sailors in the first half, Steamboat turned to two veterans who have played big roles for the past three seasons.
On consecutive drives to start the second half, Steamboat leaned on running backs Jay Hanley and Nigel Hammond.
On Steamboat's two touchdown drives, the two seniors carried the ball 10 times for 62 yards, with each recording a scoring run.
"We were able to mix it up a little bit and give different looks," said Finch, whose Sailors faced only two third downs on the drives. "It was balanced and nice concise drives. It was two very, very clean drives. There were no penalties, no miscues, and everybody got their assignments."
Being able to blend in and bring along the young players and having that type of senior leadership makes Finch believe this team could be one of the best in the state by season's end.
Friday against Kent Denver, he said, showed that.
"We're glad to get a win under our belt and get it started," Finch said. "Winning is so much better than losing. We had both the good and the bad, but we improved a ton over the course of the game."