Beetles, climate change reducing water quality, supply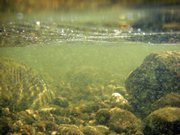 On the 'Net
Read snowpack data, forecasts and analysis by the Natural Resources Conservation Service, operated by the U.S. Dept. of Agriculture, online at: www.co.nrcs.usda.gov Follow the "snow and water" link on the right side of the page.
Keep up with the Colorado Water Congress, which advocates for water management issues across the state, online at: www.cowatercongre...>
Steamboat Springs — This spring, in the Yampa/White river basin, snowpack peaked on March 13 at a level that was 72 percent of average for that date.
According to statistics compiled throughout decades by the federal Natural Resources Conservation Service, the snowpack's peak - when snow contains its highest amount of water - came 31 days before the average peak date of April 13.
"That's pretty unheard of," said Mike Gillespie, snow survey supervisor at the Conservation Service's Lakewood office. "Nearly the entire western part of Colorado was well below average this year."
Friday morning at the Sheraton Steamboat Resort, during the Colorado Water Congress' 2007 Summer Convention, Gillespie told a crowd of water managers, engineers, policy makers and the public that this year's sub-average snowfall and early melting could be an ominous sign for the future.
"Our statewide snowpack dropped to 75 percent of average on April 1. That's a critical date," Gillespie said. "That's not good news for the water supply."
Early snowmelt can mean shorter irrigation seasons for farmers and ranchers, with less water available in the heat of late summer. And faster snowmelt, characterized by short, intense periods of runoff, can dump high levels of sediment into rivers and streams, significantly impacting water quality.
On March 28, for example, the Yampa River flowed through downtown Steamboat at about 900 cubic feet per second, or cfs - six times faster than average flows of less than 150 cfs for that date.
The Conservation Service tracks water levels in 75 reservoirs across Colorado. Gillespie said that after recent precipitation, water storage is "in pretty good shape," at 99 percent of a statewide average as of Aug. 1. But he said there is only a 10 percent chance of reaching average statewide snowpack in 2008, and an early snowmelt again will be likely next year.
Dire forecasts
The ominous tone of Gillespie's presentation fit well with the two-day convention, during which numerous speakers warned of negative impacts to water supply and quality from bark beetles and climate change.
Gary Severson, executive director of the Northwest Colorado Council of Governments, said bark beetles, which infest weak trees and essentially strangle them by cutting off nutrient channels, could impact about 1 million acres in 15 Western Slope counties - killing up to 90 percent of the lodgepole pine trees in that area.
"We are the epicenter of the mountain pine beetle epidemic that's going on," Severson said. "Most of these forests are the headwaters for our rivers and streams : we're in the process of seeing an entire lodgepole pine forest die, right before our very eyes."
Routt County Commissioner Doug Monger noted that dying forests open natural sluice gates for sediment to flow unimpeded into watersheds.
"We used to worry about not enough snow coming out of the forests," Monger said, referring to snow being captured in branches and tree canopies rather than contributing to runoff. "Now we could be getting too much."
Rep. Al White, R-Winter Park, said time is running out to deal with beetle impacts.
"Climate change is a decades deal," White said. "This beetle kill is a five- to 10-year deal. This is now."
In April, Gov. Bill Ritter signed into law a bill sponsored by White and Senate President Joan Fiz-Gerald, D-Coal Creek Canyon. The legislation allows municipalities and counties to create tax districts, with voter approval, to fund bark beetle mitigation and forest management measures.
Don Carroll, a deputy supervisor for the United States Forest Service, estimated bark beetles would leave wide swaths of dead, red pine trees across 22 million acres of the West.
"It's inevitable that there's going to be a large fire," Carroll said.
Data needed
Steamboat Springs City Councilman Ken Brenner said the need is urgently growing for increased water quality and measuring data in the Yampa Valley.
"We're not prepared," Brenner said. "We're not prepared for the consequences of climate change and extended drought. We need to quantify not only the existing (water) production and quality, but we also have to be able to anticipate reduction."
Brenner said City of Steamboat Springs and Routt County officials - including Mike Zopf, the county's director of environmental health - are preparing a grant application for regional and state water authorities, such as the Colorado Water Conservation Board, to seek funding for water quality programs and, potentially, more measuring stations along the Yampa River.
In a rare optimistic message during the two-day convention, Gillespie said Friday that on his drive to Steamboat from Lakewood, he saw snow on peaks along the Continental Divide.
"The season's first snowfall has occurred," Gillespie said. "Hope springs eternal for another good snow year."