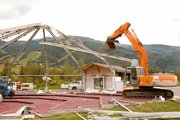 Tom Ross
Tom Ross' column appears in Steamboat Today. Contact him at 970-871-4205 or tross@SteamboatToday.com.
Find more columns by Tom here.
Steamboat Springs — If and when people begin tearing down more of the modest old homes in Steamboat's historic neighborhoods, demolition crews surely will find crumpled copies of the Steamboat Pilot stuffed inside the walls.
In the early part of the 20th century, the community newspaper wasn't just a source of vital information. It also was an economical way for Steamboaters to insulate their homes and reduce their carbon footprints, although they may not have thought of it that way.
When you reflect on it, the presence of 80-year-old newspapers inside those old structures lends new life to the hackneyed expression, "If these walls could talk, oh, the stories they would tell!"
Isn't it a pity that all well-turned phrases are destined to turn into cliches?
I was reminded of the human stories contained within buildings this week when I happened by the Strings in the Mountains festival site Thursday in time to watch construction crews taking the tent down one last time. The tent has stood year-round since September 2003, when it was taken down and moved from Torian Plum Plaza. Previously, the tent was taken down every fall to make space for skier egress and erected again in the spring for each summer festival season.
The tent is destined for replacement by an architecturally dramatic, permanent pavilion in time for the beginning of next summer's season.
Mark Seiler, construction engineer for general contractor TCD, said he expects the shell of the building to be up by Christmas, with completion by May 30. The aluminum ribs of the old tent will be recycled, Seiler said.
The new Strings festival facility is a cause for celebration. Still, I found myself feeling a little melancholy at the sight of its aluminum ribs being stacked on the ground like so many whale ribs. The audience seating area and stage look eerily small and insignificant when laid bare beneath an overcast sky.
Where did all of the magic from scores of brilliant musical performances evaporate too?
To be straight with you, I'm not a regular member of the Strings crowd. But it was a rare occasion when I didn't leave a performance feeling energized by the performing artists and the audience response.
So why did I feel a little blue about the disappearance of a local landmark I've visited no more than once or twice a summer? And what is it about venerable structures that is so captivating?
I experienced similar emotions years ago when they tore down the old Routt Memorial Hospital and, with it, the room where my son was born. His birth day was easily the most profound day of my life.
In addition to the wonder I experienced at witnessing the birth, I went through the tumult of emotions that go along with sending my wife off to surgery in the middle of the night. The obstetrics nurse informed me I would be spending the rest of the morning curled up next to a tiny infant so that it could bond with its "mother." I lay awake all night for fear I would roll over on my little boy.
The old hospital site has been transformed into a handsome residential subdivision, and it's a little disorienting to drive by it today and think to myself, "I think the boy was born in those folks' garage, or maybe the delivery room was in their kitchen."
I'm sure many Steamboat families will experience similarly mixed emotions when a new, modern elementary school stands in the place of the dowdy old Soda Creek Elementary School.
I ran into Strings Executive Director Betse Grassby in an otherwise deserted festival office Thursday. She was bubbling with excitement about the possibilities offered by the new pavilion. She had just returned from an entertainment booking convention and already was imagining the performers Strings could accommodate with a larger stage and adequate dressing rooms. Her enthusiasm was infectious, and I'm excited to see the new pavilion taking shape early this winter.
But I'll never forget some of the memories housed in that old tent.
- To reach Tom Ross, call 871-4205
or e-mail tross@steamboatpilot.com