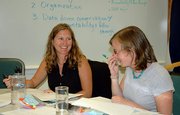 Steamboat Springs — Hayden Superintendent Mike Luppes said that, to this day, he remembers each of his fellow first-year teachers from when he started his career in education more than three decades ago.
"Regardless of my experience, there is almost always a bond there," he said. "You may be in different buildings and things, but I can tell you the teachers I first came in (with). One of them is retiring with me."
Luppes welcomed five new teachers to campus Friday as part of a new teacher orientation program aimed at easing the transition into their new jobs.
"It's basically trying to give them a jump start on our district, our community and getting to know each other a little bit, getting to know the administrators, as well," said Luppes, who noted all district staff report Monday.
"We spent some time on the history of the area," he said. "We will take a driving tour, so when the kids say, 'I live up in Golden Meadows,' and that kind of thing, they have at least a visual."
Luppes said he couldn't be happier with the additions and called the group a "great bunch of teachers."
"Also with new teachers, we sit down and explain the expectations out of them, talk about some of the district policies, their benefits," he said. "It's so that they are aware of the programs that are offered, both on the benefits side and philosophically what we are looking for in our staff."
Before their driving tour, the teachers spent the morning filling out paperwork and taking care of the business end of their job.
"We're getting the paper trail out of the way so that next week, when they get here, we don't have to take time out of staff development and classroom time and that type of thing," Luppes said.
Hayden High School's new English, theatre and debate teacher, Sonia Salberg, said what brought her to Hayden was its idyllic mountain setting.
"I was a backpacking guide up here, and I loved the area, it's one of my favorite places in Colorado," said Salberg, who previously has worked at the Beacon Treatment Center in Denver, along with student teaching in Arvada.
"My goal is to inspire my students to be lifelong learners and readers," she said.
Spousal relocation, hunting, fishing and the region's world-famous champagne powder were various other reasons why new hires came to Hayden.
Robert Winn, the high school's new science and health teacher, said his goal was to infuse an element of fun into the classroom, while Catherine Stewart, the high school's new resource teacher, said she hopes to develop strong relationships with her students.
New second-grade teacher, Laura Duran, who graduated from Mesa State in 2006, said her arrival in Hayden is a bit of a homecoming for the Craig native. Duran said she hopes to create a "safe and nurturing environment where all students have the opportunity to learn."
Jan Owen, the district's new reading specialist, said she joined her husband on their ranch after she retired last year from the Denver Public School system.
"Every child can learn, and every child needs the opportunity to have the right kind of instruction to learn," she said.
- To reach Mike McCollum, call 871-4208
or e-mail mmccollum@steamboatpilot.com