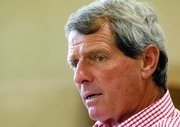 Steamboat Springs — Sheriff Gary Wall is a man on a mission.
Wall has spent his first months in office modifying the shifts worked by his deputies in an effort to provide around-the-clock service. But Wall said 24-hour coverage won't be possible unless he can add another patrol deputy and an animal control officer to his staff.
Wall, Undersheriff David Bustos, Sgt. Miles DeYoung and Dep. Kurtis Luster presented the request to the Routt County Board of Commissioners during a Tuesday work session.
"We initially had asked for three (patrol) deputies, but after we restructured, we think we can accomplish what we're trying to do with just two more positions," Wall said.
The Sheriff's Office currently provides no coverage from 3 to 7 a.m. Wall said another patrol deputy would not only help fill that gap, but also would help with increased calls for service.
Wall's department employs one lieutenant, two sergeants, two investigators, 11 deputies and one animal control officer for patrol work. Additionally, there are 23 detention deputies, including three sergeants, who work at the Routt County Jail.
Adding another animal control officer is long overdue, he said.
"We've had one person for 19 years," he said. "The county has certainly gotten larger and there are more subdivisions having more and more animal problems. We need someone seven days a week."
Animal Safety Officer Cindy Del Valle estimates she patrols more than 300 subdivisions and has handled, on average, 25 percent more calls this year than she did in 2005 and 2006. Steamboat Springs also employs animal control officers.
"She's way overworked," Wall said.
Routt County Commissioner Nancy Stahoviak said the Board has been sifting through similar staffing requests from nearly every department in the county.
Adding personnel to departments is a struggle because it's a recurring expense, she said.
"We look really hard at what we approve because it isn't a one-time cost to the county," she said. "At the same token, we realize we need to provide a certain level of service to our citizens. It's a struggle we have."
Handling an ever-increasing number of budget requests is part of the job, she said.
"It is indicative of what happens with a county that is growing and a world that has more and more requirements and needs," she said.
"We are meeting in work session with any department manager who is requesting additional employees for the 2008 budget, which allows us to ask questions and gives them an opportunity to talk to us," Stahoviak said.
Wall said he understands that he isn't the only department head asking for more people.
"Most departments are asking for more people," he said. "It's something the county will have to sort through."
After hiring two new patrol deputies, including Luster and former detention Dep. T.J. Sisto, Wall said he is "optimistic" about filling a remaining patrol position by early next week.
"This will be the first time in a long time that the Sheriff's Office will be fully staffed," he said.