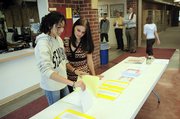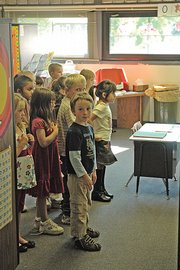 Steamboat Springs — South Routt High School junior Dafne Arce didn't mind starting classes again Thursday. But she already misses her summer sleep schedule.
"I'm sleepy this morning," said Arce, 15, as she searched for her class schedule with classmate Patricia Richmond. "A week ago, I wouldn't have been up at this hour."
Hundreds of South Routt students said goodbye to summer Thursday as South Routt schools opened for the 2007-08 school year.
"We are right on schedule," said Superintendent Kelly Reed, who took up the task of welcoming back Soroco High School students as they entered the building. "All of our schools are very organized, and we are looking forward to a great school year."
As Reed helped students find schedules and locate classrooms, a few stragglers rushed through the front door. Tardy on the first day doesn't win many brownie points from the superintendent, but Reed urged them to hurry along to class.
"It's sometimes hard to let go of the summer," said Reed, who pointed out one notable absence - Principal James Chamberlin. "He called me at 5:15 this morning and said he was sick. I doubt he's playing hooky."
Once the last bus pulled away, Reed walked to the adjoining South Routt Middle School and encouraged the assembled students to put their very best into every day at school.
"Believe it or not, time will fly by, and in a few years you will look back and say, 'Where did school go?'" he said. "You've got one shot. Make the very best of it and it will be really rewarding in the long run."
Soroco High School office manager Sylvia Teters said the first day of school is hardly a melancholy affair despite the end of summer.
"I've had 14 years of first days of school and there is always a buzz in the air," she said. "They are excited to see friends they may not have seen all summer, and believe it or not, most students really love school."
Reed noted that every school year presents unique obstacles and situations, but he said the November election is of dire importance to the South Routt School District.
"We have two issues we will put on the ballot this fall - one is to ask voters to let us allow us to purchase bonds to replace our heating systems," he said. "The other is the mill levy override to increase operation revenues to make ends meet."
At South Routt Elementary School, Principal Michael Young was settling into his second "first day" as principal. He wandered the school as students settled in, poking his head in and out of classrooms, which stirred up high-spirited calls of "Hello, Mr. Young."
As he passed each classroom, the sounds of children spelling out the ABCs and learning the Pledge of Allegiance filled the hallways. Young said each first day is often the same. New shoes, new backpacks and new school supplies were plentiful, but the tears were surprisingly missing - at least from the students.
"My speech pathologist, I ran across her in the hall a little bit ago and she said, 'Yes, no tears in kindergarten,"' Young said. "You know when kindergarten is off to a good start when you have no tears from the students. Tears from the parents - now that's a different matter. It's usually harder on the moms and dads than it is on the kids."