Sailors win season opener, 23-14
Youth prevails in game against Kent Denver
2007 Sailors Football
* -- State playoff game.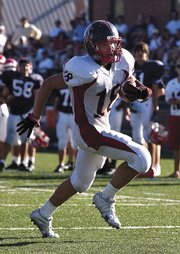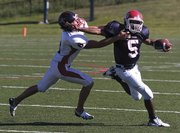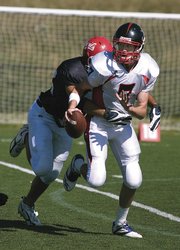 Game statistics
Score by quarters
Steamboat 00-03-13-07-23
Kent Denver 00-08-06-00-14
Scoring summary
First Quarter
None
Second Quarter
KD - 11:59, Michael Morahan safety.
SS - 7:30, Ben DeLine 22-yard kick.
KD - 4:32, Patrick Murray 74 run. (Run fail)
Third Quarter
SS - 6:09, Jay Hanley 4-yard run. (Run fail)
SS - 1:44, Nigel Hammond 11-yard run. (DeLine kick)
KD -:04, Michael Reilly 40-yard pass from Kendall Early. (Pass fail).
Fourth Quarter
SS - 8:53, Hanley 64-yard fumble return. (DeLine kick)
Individual statistics
Rushing
SS: Hanley 23-104, 1 TD; Hammond 8-20, 1 TD; Fraser Egan 3-6, Austin Hinder 2-(-7).
KD: Tyler Jackson 13-124; Murray 6-112, 1 TD; Harrison Jackson 4-17; Reilly 1-20; Early 10-(-57).
Passing
SS: Hinder 8-9-0, 79 yards.
KD: Early 4-12-2, 104 yards, 1 TD.
Receiving
SS: Cody Harris 3-45; Hammond 2-16; Egan 1-4; DeLine 1-4.
KD: Dylan McCagg 2-53; Reilly 1-40, 1 TD; Jackson 1-11.
Watch the game
Catch the replays of Sailors football games at 10:30 a.m. and 8:30 p.m. Sundays and 8:30 p.m. Wednesdays on Steamboat TV 18.
Englewood — In the ultimate bend-but-don't-break game, the Steamboat Springs High School football team didn't act its age.
In fact, considering the numerous sophomores and first-time starters sprinkled throughout the lineup, the Sailors played like a team versed beyond its years during Friday's 23-14 win against Kent Denver.
On three occasions, Kent Denver moved the ball inside the Steamboat 20-yard line, including twice in the Sun Devils' first two possessions. But all three times, the Sailors came up big.
Once, Steamboat held its ground and forced a turnover on downs. Twice, Steamboat used a relentless pass rush to create turnovers, the last of which senior Jay Hanley turned into a momentum-shifting, 64-yard fumble recovery returned for a touchdown.
"They are just a solid group of young men," coach Aaron Finch said. "It's fun. It's good to start this way."
Early on, however, it was a start the Sailors would like to forget.
After receiving the ball to open the game, Steamboat fumbled on its first offensive series. The team followed with a three-and-out, a blocked punt for a safety and a mental breakdown on a punt return that led to a 74-yard touchdown run by Kent Denver punter Patrick Murray.
Throw in a second quarter Ben DeLine 22-yard field goal, and the greenhorn Sailors went into halftime trailing 8-3.
But when even a seasoned team might wilt, the Sailors just got stronger.
Steamboat put together back-to-back touchdown drives - the first capped by a 4-yard Hanley run and the second on a pounding 11-yard run by Nigel Hammond - to take momentum and a 16-8 lead.
But Kent Denver wasn't done.
Sun Devils junior quarterback Kendall Early hooked up with super-athletic receiver Michael Reilly on a bubble screen on the right side of the hash. Reilly took the ball, shifted fields and outran everyone to the left pylon.
After Steamboat was forced into another three-and-out, momentum was seemingly on Kent Denver's side. Then Steamboat's pressure got to Kent Denver.
On a third-and-eight play from the Steamboat 15-yard line, Kent Denver's snap sailed just over Early's head.
Hammond hit Early as he jumped on the ball, sending Early one way and the ball the other. Hanley picked up the ball and ran 64 yards for a game-clinching touchdown.
"When they got in the red zone we just buckled down," Hammond said. "We just got it done."
The bad snap - and the Sun Devils' three turnovers - was mostly a result of the pressure the Sailors put on Early in the second half.
Steamboat recorded seven sacks in the game, including five in the second half.
"I just came out ready to hit and wanting to hit," said sophomore linebacker Cody Harris, who made a second home in the Kent Denver backfield, finishing with two sacks and 11 tackles. "Everybody just wanted to come back and play some football."
Steamboat next plays at 7 p.m. Friday at home against Laramie, Wyo.