Pato Banton closes out Free Summer Concert Series
Past Event
Friday, August 24, 2007, 5:30 p.m.
Howelsen Hill, 845 Howelsen Parkway, Steamboat Springs
Not available / Free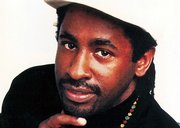 Steamboat Springs — Reggae mainstay Pato Banton will close out the 2007 Free Summer Concert Series tonight at Howelsen Hill. An opening band, Lion Vibes, will take the stage at 5:30 p.m.
Banton, a former English Beat sideman whose songs stress messages of positivism, hails from the Birmingham, England, reggae crossover scene that in the 1970s mixed dub with punk, the Marleys with The Clash.
John Waldman, promoter for the Free Summer Concert Series, said Banton was chosen for his strength and longevity as an artist. The musician's establishment in the reggae world puts a nice cap on this summer's series, which started with Jamaican legends The Wailers (the current touring version, sans Bob or Ziggy). Other performances have included noted bluegrass man Sam Bush and the always summery Los Lonely Boys.
"Sometimes there are more of a certain flavor than others," Waldman said. "It just happened this year that we had two reggae acts - The Wailers to open the series and Pato Banton to close it."
This is the first year Banton has toured since 2000, when his son was victim to a drive-by shooting. He returns with a little religion, a lot of love and a message - the ingredients that have pushed reggae over cultural boundaries since the 1960s.
Waldman said that while top talent is easier to acquire some years than others, this season was a good one for the series. No plans for acts have been made for next summer, but Waldman said the budgeting and organizing process is under way.
LIFT-UP of Routt County will collect nonperishable food items at the concert entrance.
- To reach Margaret Hair, call 871-4204
or e-mail mhair@steamboatpilot.com