Past Event
Friday, August 24, 2007, 8 p.m.
Perry Mansfield Performing Arts Center, 40755 County Road 36, Steamboat Springs
All ages / $10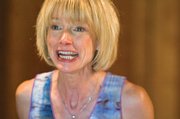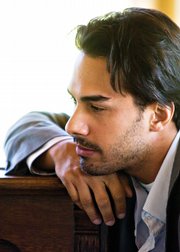 The art of cabaret, says performer Karen Mason, is about self-realization.
"It can be anything, as long as that person is communicating, is telling a story, is relating something," Mason said. She is a faculty member for the Perry-Mansfield Performing Arts School and Camp's "The Art of Cabaret" workshop.
Tonight and Saturday night, the workshop's faculty and students will give performances of their works, which range from individual musical theater to in-depth storytelling.
Mason, an accomplished musical theater performer and cabaret artist, will perform with fellow faculty members including Andrea Marcovicci today. The workshop's 13 students will perform bits of their own shows on Saturday.
Cabaret - an intimate combination of song and storytelling that dates back to early 20th century France - is unique for its personal aspects and audience interaction, says workshop coordinator Mark Fifer.
"It's not performance art, but it has lofty roots - it's a much more intimate art form than regular musical theater," Fifer said. "The thing that makes cabaret in a performance situation is that on any given night the mood of the people in the audience really determines what can happen on stage.
"The performers really feed off the audience in a very organic way, and it makes for a more genuine experience."
Because every aspect of a cabaret - song selection, topic, costume, delivery - is left to the performer, each show is specific to its creator. "It's a self-motivating art form because we create it," said Marcovicci, whose "historical cabaret" style focuses on a time period or songwriter and involves elaborate research.
Styles vary broadly for the faculty members and students. So, while Marcovicci's show is akin to a biopic, Mason's centers on songs that tell a story from one tune to the next. It's those differences that make cabaret what it is, Mason said.
"Everybody kind of comes with different backgrounds, and I think what's so incredible about cabaret is that all of that is utilized."
"The Art of Cabaret" workshop, now in its fourth year, is unique for its small class size and specialized faculty, Fifer said. Students range in age spanning four decades and, for the most part, already have their own unique cabaret style and show.
The goal of the eight-day program, Fifer said, is for the students to hone their act, concentrate on their art and discover as much as they can about themselves. "It's really just bringing them out into the middle of nature and seeing what happens," he said.
And while the weekend's performances are a sort of capstone to the program, they're not meant to be a test of the week's work. Instead, Fifer said, the performances are very much a part of the learning process.
"It's not about going anywhere, it's all about the process."