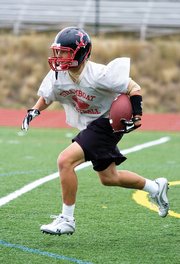 Starting lineup
Starting for the Sailors:
Offense
Quarterback - Austin Hinder, sophomore
Fullback - Jay Hanley, senior
Split back - Fraser Egan, sophomore
Wide receiver - Cole Krahenbuhl, senior
Wide receiver - Nigel Hammond, senior
Tight end - Cody Harris, sophomore
Left tackle - Ahmad Akkad, senior
Left guard - Andrew Houk, senior
Center - Carl Steele, sophomore
Right guard - Joe Nerney, senior
Right tackle - Mac Marsh, senior
Defense
End - Hanley
Nose guard -Houk
End - Marsh
Linebacker - Hammond
Linebacker - Egan
Linebacker - Harris
Linebacker - Steele
Linebacker - Ben DeLine, senior
Corner - Jasper Gantick, junior
Corner - Graham Geppert, junior
Safety - Krahenbuhl
Last year's game
Score: Steamboat 31, Kent Denver 13
Details: Steamboat's Jay Hanley ran for three touchdowns - including a 69-yarder - as Steamboat jumped all over former Kent Denver quarterback Will Deevy. Deevy, who along with former Steamboat lineman Lane Shipley inked to play at Dartmouth, finished the day with three interceptions.
Steamboat Springs — Nigel Hammond can absolutely catch the ball.
Jay Hanley can absolutely run the ball.
Ben DeLine can absolutely kick the cover off the ball.
Mac Marsh and Ahmad Akkad can absolutely block.
Those are the absolutes.
But possibly the biggest - and most important - factor heading into today's season opener at Kent Denver (3:30 p.m. kickoff) is how Steamboat's underclassmen will play.
Sailors coach Aaron Finch has no doubt the sophomores - at least three of them are expected to start on both sides of the ball - are a talented bunch.
But when you're talking about varsity football against a tough opening team (Kent Denver opened the early season polls ranked No. 4 in Class 2A), Finch said it's difficult to know what to expect.
"It's exciting about how much better we're going to get," Finch said. "As a team, the opportunity to get better is dramatic : but we're really young and we're really inexperienced."
Maybe the best thing for Finch is having a senior class that knows how to win. Steamboat has made the playoffs the past two years, and seniors Hammond, Hanley and DeLine - all players in the upper echelon of the league - played important roles as sophomores.
"Those are the ones we're really relying on," Finch said. "We know they'll keep their wits about them and help the young guys come along. They're all really great guys and they're going to play their hearts out and set an example."
Although the Sailors are young, it's hard not to like the possibilities with Hanley and sophomore Fraser Egan in the backfield, Marsh and Akkad at the tackles, Hammond at wide receiver and DeLine kicking the ball.
Kent Denver, which narrowly missed the playoffs last year with a 4-5 overall record, returns all of its skilled players and is expected to compete for a state title in Class 2A.
Along with wide receiver and defensive back Mike Reilly, the Sun Devils return running back and linebacker Patrick Murray, who rushed for more than 800 yards last year as a sophomore.
"We got a lot of our skill kids coming back," Kent Denver coach Scott Yates said, noting team speed is probably the Sun Devils' biggest strength. "We did lose our quarterback to graduation, but we have all of our running backs and some of the wide receivers returning."
In last year's 31-13 Steamboat win, the Sailors pressured the quarterback and rode Hanley and his three touchdown runs to victory.
This year, Finch said the game plan is essentially the same with Marsh and Hanley on the ends looking to pressure the quarterback and Hanley handling main duties as the halfback.
"We have to limit their big plays and limit our mistakes," Finch said. "We've got to give them a long field and hang in there and compete the whole game. But if we don't take care of the football and give them a short field, it could be a long day."