Past Event
Saturday, August 25, 2007, 9 a.m. to noon
Forest Service Office, 925 Weiss Drive, Steamboat Springs
All ages / Free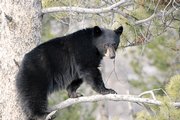 Steamboat Springs — Local wildlife officials hope Steamboat Springs residents concerned about the area's continuing bear problem will spring into action to revive the Bear Aware program.
Randy Hampton, spokesman for the Colorado Division of Wildlife, said even though a Wednesday night meeting to educate the public about bears was not well attended, wildlife officials are moving forward with a Saturday morning training for Bear Aware volunteers.
"It's unfortunate and sometimes typical that people are quick to bring up questions or raise issues and concerns, but they're not as quick to get up and do something that might make a change," he said Thursday.
During Wednesday's two-hour meeting at Olympian Hall, Division of Wildlife officials and Steamboat Springs police Sgt. Rich Brown addressed why bears are being forced into the city and what residents can do to prevent the bears from getting to certain food sources. Some of those measures include using wildlife-proof trash containers and keeping windows closed.
Hampton said the meeting revealed there is some interest in participating in the DOW's Bear Aware program, which is designed to empower volunteers to address bear issues with their neighbors, Hampton said.
"We were able to find out that there is some community interest in the (Bear Aware) program from people with the desire to help out," he said.
Saturday's training is from 9 a.m. to noon at the DOW area office on Weiss Drive. Interested residents should call 870-2197 to reserve a spot.
"The program itself utilizes volunteers by helping people help bears through education," he said. "We as an agency don't have the time or resources to knock on doors and talk to people, so it's nice to have other people out there making a difference that way."
Hampton said the bear problem Steamboat Springs is experiencing is the tip of the iceberg.
"This is a problem that isn't going away," he said. "We'll keep coming out and hosting these meetings as long as there's interest. We're in it for the long haul."
- To reach Alexis DeLaCruz, call 871-4234
or e-mail adelacruz@steamboatpilot.com