They've got high hopes
Growing Steamboat softball team brings optimism to the plate
Thursday, August 23, 2007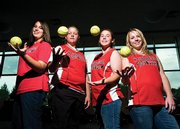 Steamboat Springs — It's hard to keep the Steamboat Springs High School girls softball team down.
After a winless 2006 season, the Sailors look to rebound with the help of Oak Creek coaching tandem Maggie and Frank Garcia, a pair that has shared strategy around the diamond for nearly 20 years. The renewed optimism is invigorating a growing program that returns six players from its varsity team last year.
At Wednesday's team picture meeting, senior Catie Winter and Maggie Garcia joked about how Bengay should sponsor the team after brushing up on fielding skills left players with some hard-earned bruises.
"There's a lot of energy with these girls," Garcia said. "We've been practicing in the rain, and these girls refuse to get off the field. I've been so impressed with their improvement, it has already improved 100 percent since day one."
The Sailors return Winter, Mataya Flaharty, Cera Arroyo, Terica Arroyo, Darcy Hornstein and Sarah Hill to the lineup.
Garcia said she will be looking to Hornstein, Flaharty and Winter to rotate through the bulk of the pitching responsibilities while she tests out positions in the team's first few games. Garcia will be looking to Mataya and Amelia Flaharty, shortstop Hill, second baseman Jade Patterson and catcher Ashton Palmer to plug the infield holes.
On the offensive side, Garcia said she likely will fine-tune the batting order after the Sailors' first game, Saturday in Delta. But the coach is looking to lead off with Hill or Palmer and clean up with Hornstein and Winter.
Palmer, who transferred from a successful softball program in Ventura, Calif., sees potential in this year's team and feels confident the Sailors can gain wins and cut the spreads in their losses.
"It's a lighter mood, we're doing different things in practice and having fun, " Mataya Flaharty said.
"But we're working hard at the same time," Palmer added, finishing Mataya's sentence. "And doing the tasks that need to get done."
Garcia is not only stressing the fun and the work ethic necessary to get in the win column, but she also wants to bring the team together. She already has plans to take the team to a handful of spring tournaments. First, though, the team has to work the kinks out in Delta.
"We can all hit the ball, all get infield shots and catch pop flies - we just need to keep our faith up," Palmer said.