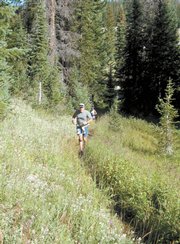 Runners scorch the Divide
Steamboat Springs — The Continental Divide Trail Run is no cakewalk. The Steamboat Springs Running Series' 12th event of the summer is one of the series' few races that features a single-distance (16.2 miles) course for all racers.
Race director Greg Danziger is the first to point out the race's challenging first section is "virtually a 10K up Fish Creek Canyon." But the Continental Divide Trail Run's racers just keep getting faster.
Sunday's ninth annual running of the scenic race - which took runners up from the Fish Creek Falls parking lot to the summit of Mount Werner and down to a finish at the top of Thunderhead Peak - featured record-breaking runs in both the men's and women's fields.
Steamboat Springs' Mark Iverson, 25, and Boulder resident Bryan Dayton, 34, made the initial haul up the canyon to Long Lake in an impressive 52 minutes.
Iverson had the lead heading up Mount Werner on the Mountain View Trail, but Dayton moved out of drafting position and into the lead on the downhill to the finish. Dayton finished in 1 hour, 56 minutes and 44 seconds, just eclipsing Iverson's 2005 course record. Iverson finished second (1:58:54), and Craig's Todd Trapp, 29, finished third (2:02:39).
Craig was represented on the women's side as well. Christine Knight ran to her fifth Running Series win of the year, establishing a new course record in 2:23:27. Rachel DePuy took second in 2:29:59, and Steamboat's Lori Huggard notched her fourth series podium finish in third (2:30:03).
Danziger said the race was "easily the best overall finish" he's seen. The majority of the race's 55 finishers - more than half of whom were out-of-towners - finished in less than 3 hours and 15 minutes under clear skies and on "cool, damp and tacky" trails.
The next two Running Series events - the Sept. 2 10K at 10,000 Feet and the series finale Sept. 8 Kremmling Road Kill - are in Grand County. The Run for Literacy will not be held this September.
Next Town Challenge bike race to be held Friday
The final of eight Town Challenge Mountain Bike Series races will be held Friday evening, a contrast to the series' typical Wednesday schedule.
Series director Gretchen Sehler said the race was scheduled for Friday to accommodate an end-of-season potluck banquet and awards ceremony that will follow the races at Olympian Hall at Howelsen Hill Lodge.
With less daylight, the race times for the event - the Valley View Circuit - will be earlier than usual. All divisions start from the Thunderhead chairlift base of the Steamboat Ski Area.
Miller Lite and all youth divisions for children 12 and younger start from 5 to 5:09 p.m. The pro/open, expert men and women, youths 16 to 18, sport men and women and novice men start between 5:30 and 5:39 p.m. Everyone races a one-lap circuit to the top of Thunderhead Peak via Zig Zag and then down Huffman's, Spur Run and Valley View. Women's novice and youths 13 to 15 divisions start at 5:40 p.m.
The course is one of the fastest in the series. At the inaugural race last year, Barkley Robinson established a course record in 41 minutes, 13 seconds, and Kelly Boniface set the women's record in 53:52.
Sehler reminded riders that they need to have raced four Town Challenge races to be eligible for the overall point standings, which consider each racer's seven fastest times.
She also noted the hefty prizes to be raffled off at the banquet, including a Moots YBB frame and a 2007-08 youth Steamboat Season Pass to the Steamboat Ski Area as well as two 20-day Super Value Passes. Call 879-4300 with questions regarding what potluck dishes each division is responsible for, or visit www.townchallenge.com for full course details and start times. Due to limited parking at the Thunderhead base, Sehler encouraged riders to park at the Knoll lot and use Burgess Creek Road as a warmup.
Sheraton golf club crowns Club Champions
Sheraton Steamboat Golf Club Director of Golf Brian Thorne announced the winners of the recent men's and women's Club Championships.
Ron Jacobson won the men's Club Championship on Aug. 13 and 14. Joe Caltajirone took second in gross score. Chuck Leckenby took first place with his net score, followed by Toby Weitzel.
The women, who competed Aug. 15 and 16, also played in a 36-hole stroke play championship. D.J. Edwards won the championship with the lowest gross score. Ruth Golden finished second. Lois Pollard had the best net score, followed by Mary Effinger in second place.
The Steamboat Women's Golf Association Championship, an 18-hole stroke play event, also took place Thursday. Deb Benak won with the lowest gross score, followed in second by Edwards. Nancy Clarke had the lowest net score, with Anita Hawkins finishing second.
Thorne reminded golfers of Saturday's upcoming Young Life Charity Scramble and the 31st anniversary of the Whistle Pig Invitational from Sept. 16 to 18. Call 879-1391 with questions.
Hayden cheerleading meeting at 7:30 p.m. today
Hayden High School athletics director Kevin Kleckler said a parent/player cheerleading meeting is at 7:30 p.m. today in the high school's gym lobby. Daily cheerleading practices started at 6 p.m. Tuesday in the gym lobby. Cheer coach Debbie Zabel said interested students still are welcome to come out for the team, but need to have their sports physical forms completed, which are available at most doctors' offices or at the high school.