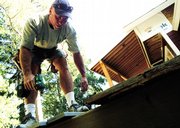 Steamboat Springs — City officials have enacted a temporary ban on demolitions and exterior alterations of historic structures in Steamboat Springs.
The Steamboat Springs City Council voted, 4-2, Tuesday night to enact an "emergency moratorium" that, effective immediately, prevents city planning staff and the Routt County Regional Building Department from accepting applications "for building permits that could result in the alteration of an exterior aspect of, or demolition permits for, any historic structure." City attorney Tony Lettunich said city regulations designate any structure more than 50 years old as historic.
The emergency moratorium is effective for 90 days, but the City Council plans to approve a second, revised moratorium before that deadline. The second moratorium will address issues raised Tuesday night - such as home repairs and the rights of private property owners - and be in place for several months, likely into next spring, while an advisory committee addresses permanent changes to the city's existing historic preservation ordinance.
"This is a three-step process," Councilman Ken Brenner said, citing the emergency moratorium, the second moratorium and the formation of the advisory committee.
Councilman Loui Antonucci was absent Tuesday night.
Councilmen Steve Ivancie and Paul Strong voted against the emergency moratorium, which Ivancie said "halts any kind of building project" on homes more than 50 years old.
"When it comes to private property rights, I am not about to take something away that the community has right now," Ivancie said.
Strong asked that the second moratorium remove the exterior alteration language and apply only to demolitions of historic structures - a condition accepted by the rest of City Council.
Lettunich warned such a clause could leave an "unbelievable loophole" that would allow for massive renovation projects that fall just short of demolition and "gut a historic structure."
As it did a week ago, the discussion about historic preservation drew passionate public comment from numerous residents. Some cited a need to preserve Steamboat's heritage in the face of growth while others stressed the importance of landowner rights and drastically needed home improvement projects.
"This feeling of 'my land, my rights' is now coming right up against community rights," Partners in Preservation member Noreen Moore said to the council. "We're asking you to make a difficult decision."
Also Tuesday night, the City Council took another look at location options for a proposed recreation center planned for November's ballot. While the council approved plans for a consolidated, $34 million recreation center in July, recreation consultant Chuck Musgrave presented revised plans for separate facilities - including a youth center at Howelsen Hill and aquatic features at the Old Town Hot Springs downtown - Tuesday.
Despite several public comments supporting a consolidated facility, City Council President Susan Dellinger questioned whether the city could afford a $34 million recreation facility in addition to potential Howelsen Hill renovations, such as a new ski slope. City recreation officials introduced the potential renovations, which could cost $20 million, in a Howelsen master plan last month - after the recreation center vote.
The City Council will review ballot language for a recreation center proposal next week. City Clerk Julie Jordan said the ballot must be certified Sept. 7.