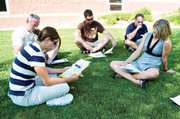 If you go
What: Steamboat Springs High School check-in
Where: Steamboat Springs High School
When: 7:35 a.m. to 3:45 p.m. Thursday (times vary by grade level)
Call: 879-1562
Steamboat Springs — The first day of school is just days away.
All Steamboat Springs High School students and parents will take the first step back with Thursday's enrollment check-in, while freshmen have orientation today.
Karen Campbell, the high school's office manager, said students must have completed enrollment forms, signed by a parent or legal guardian, at check-in.
"Our school also has a new student database, and we have previously sent home to all high school students household forms," she said. "They must have the household form, and any student owing a fine from the previous school year must clear the fee prior to check-in."
Campbell urged students and parents to adhere to the scheduled check-in times established for each grade level.
Seniors are asked to come between 7:30 and 9:15 a.m., while juniors are scheduled from 9:30 to 11 a.m., sophomores from 11:15 a.m. to 12:30 p.m. and freshmen from 2 to 3:45 p.m.
"It's about organization so not everybody comes in at once and we can move people through in an organized manner," said Campbell.
She said about 700 high school students are registered for the 2007-08 school year.
Also Thursday, students will have pictures taken for student identification cards, and they will receive their schedules, locker assignment and textbooks. Student activity fees will be collected and students may purchase a yearbook for $50.
Juniors and seniors who have completed requirements for open campus can get their open campus and parking permits, she said.
Students who are unable to check in Thursday or Friday, may check in Monday, but Campbell noted late registration may make the first day of school a headache for the student.
"It's going to be difficult during that first day to get all their books, find their classes," she said. "And they will have to make up their class picture at retakes in October.
Freshman orientation, which begins at 2 p.m. today and continues until 7 p.m., does not replace Thursday's check-in, but Campbell noted the day's activities are designed to help freshmen feel at home at their new school.
"Upperclassmen will work with groups of freshmen in team building exercises and getting them acclimated to high school life," she said.
A meeting for parents of freshmen is at 6 p.m. Campbell said the meeting will allow parents to ask questions of school staff.
For more information on today's freshman orientation or Thursday's check-in, contact Steamboat Springs High School at 879-1562.