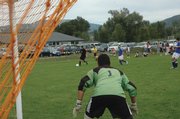 Steamboat Springs — Utter domination.
From start to finish in the Yampa Valley Soccer League men's championship game, Steamboat Pacific limited Craig Deportivo's opportunities and created its own.
The result was a 3-1 victory, an undefeated season and bragging rights for Steamboat in its first year in the league.
"It's a good league," Steamboat captain Danny Tebbenkamp said. "There's a couple of teams that aren't as strong but this is our first year in the league and we took it."
While Steamboat dominated possession for most - if not all - of the first half, it was only able to go into halftime with a 1-0 lead on Ryan Lightner's goal in the 16th minute.
"It was a little scary with it being 1-0 for a while," Tebbenkamp said. "One mistake, or just one big play from them, and they're right back in it."
In the second half, however, Steamboat did exactly what it did in the first half.
And this time the chances started falling.
The first came when Luke Dudley caused a turnover, made a run and put a shot just out of the Craig goalkeepers reach.
Then, 10 minutes later, Mark Dudley put the game out of reach when Lightner hit a perfect corner kick and Dudley finished it off with a header.
"We had good movement up front from our forwards, and it was pretty open in the midfield," Tebbenkamp said. "We're more of a possession team. We just try to knock it around."
Craig's lone goal and loan chance of the game came on a penalty kick in the 83rd minute.
The goal cut the lead to 3-1 with less than 15 minutes to play.
From there, Steamboat was able to sit back and use its midfielders to play a game of keep away.
"We came out with a couple of good attacks on goal," Tebbenkamp said. "We we're building momentum and really pressing them."
The game wraps up the season in the Yampa Valley Soccer League for Steamboat Pacific. Tebbenkamp said the team may play "a few friendly" games with Vail and may enter some fall tournaments.
- To reach Luke Graham, call 871-4229
or e-mail lgraham@steamboatpilot.com