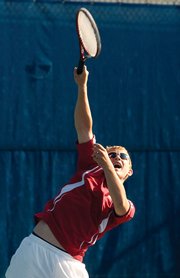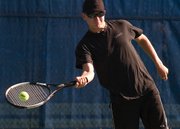 2007 tennis schedule
Aug. 24 vs. Montrose, 4 p.m.
Aug. 25 vs. Colorado Academy, 1 p.m.
Sept. 6 at Fruita, TBA
Sept. 7 to 8 at Western Slope Open in Grand Junction, TBA
Sept. 14 vs. Boulder, 3:30 p.m.
Sept. 15 vs. Greeley West, noon
Sept. 19 at Cherry Creek, 3 p.m.
Sept. 21 vs. Evergreen, 4 p.m.
Sept. 22 vs. Golden, 1:30 p.m.
Sept. 28 at Aspen, 4 p.m.
Sept. 29 vs. Kent Denver, 2 p.m.
Oct. 5 to 6 at regional tournament (Steamboat or Grand Junction), TBA
Oct. 11 to 13 at state tennis in Pueblo, TBA
Steamboat Springs — In the perils of high school sports, maybe no team in the area has been as consistent as the Steamboat Springs High School boys tennis team.
The Sailors have appeared at the past nine regional tournaments; and they've won the past nine regional tournaments.
But as the quest for No. 10 begins at 4 p.m. Friday against Montrose at the Tennis Center at Steamboat Springs, the question remains: Can the Sailors do it again despite returning only five of 11 varsity players from last year?
"If these kids really stick together, support each other and work hard, they're very capable of winning that 10th regional title," Steamboat coach John Aragon said. "We're expecting to win that."
Ramsey and Jordy Bernard, Matt Gadbois, Charlie Smith and Jeff Lambart return to a Sailors team that advanced to the state tournament as a team last year.
Ramsey Bernard might be the biggest story to follow through the year. Already a state champion, Ramsey returns for his senior year looking to capture the title at No. 1 singles.
Last year, Bernard lost in the state championship match at No. 2 singles to Cheyenne Mountain's Brad Young.
"Ramsey has everything. He's very capable of winning a state title," Aragon said. "He'll have to be a little stronger on the court, which he is starting to do. But he's something like 19-2 in the last half of his summer tournaments."
Ramsey isn't the only Sailor looking to get back to the state tournament. Jordy Bernard, Gadbois, Smith and Lambart all made early exits in the state tournament last year.
"For me, it's all about getting through regionals this year," said Gadbois, who is expected to play at No. 2 singles. "It's going to be tough. I want to make it through there and get onto state."
The season may come down to how several young players fill out the doubles pairings.
With Ramsey Bernard (No. 1 singles), Gadbois (No. 2 singles) and Jordy Bernard (No. 3 singles) entrenched in the solo roles, Aragon is looking for players to round out Lambart on the doubles team.
Two of those players happen to be another set of brothers. Freshmen twins Keegan and Jack Burger bring an experienced level of play and should smoothly transition into one of the four doubles teams.
"It's just practicing, and there's a lot of competition," Jack said. "It's a lot of fun - the competition."
While Steamboat has been the class of the league the past nine years, the team should find solid competition in its region this year.
Aspen - who is rated in the top 5 by both Denver papers - had several foreign players move in, making them an instant competitor not only in the Western Slope League but also in the state.
Montrose also should make a charge in the region.
Steamboat should find out relatively quick where it stands against the other top schools in the state.
The Sailors open with Montrose and play Greeley West, Cherry Creek, Aspen and Kent Denver before the regional tournament. Kent Denver, Cherry Creek and Aspen all are ranked in the preseason polls.
Depending on how things play out, Steamboat might have a distinct advantage come regional time. Aragon said he's still trying to get the tournament at the Tennis Center, but was unsure if it would happen.
Either way, Aragon said the 2007 season should provide intrigue and excitement.
"Once we learn to compete, I think by the time regionals comes up, they could be ready," Aragon said. "I think this team might be young, but I think they can keep tradition going."