Temp agency opens
Workforce shortage to be addressed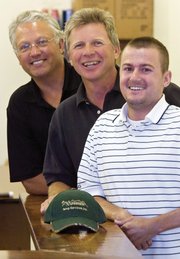 Steamboat Springs — Mountain Temp Services has opened a branch in Steamboat Springs. The office is the only temporary employment agency in Steamboat.
"We've kind of been looking at Steamboat for a few years," said Scott Davis, operating officer for Mountain Temp Services. "We specialize in mountain resort communities."
The company also has offices in Aspen, Vail, Carbondale and Dillon/Breckenridge. Davis said Steamboat was a logical expansion because of growth in the town and its widespread workforce shortage.
"People are dying for people," Davis said.
The jobs the company fills range from daily assignments to positions lasting a year or longer, Davis said.
Davis said his company provides a different service than the government agency Colorado Workforce Center, which also has a Steamboat office, because of the way it actively pursues employment opportunities.
The Steamboat office is staffed by office manager Jeffrey Carrell and Corey Voyek. Carrell said business has been good since the office opened two weeks ago.
"So far it's been a real balanced pace," Carrell said.
He said the office so far has been relying on its existing connections with contractors familiar with the company who are doing projects around Steamboat. The company says it provides everything from general labor services to office administration. Carrell said 75 percent of the company's business so far has been construction related.
The company's service is free to those seeking employment. Employers, however, are charged a fee.
Mountain Temp Services has been in business for 14 years. Davis said he and two friends got the idea for the business while playing rugby in Aspen. He said each individual office is very independent.
"We're not coming in as an outsider with an outsider's mentality," Davis said. "We're coming in to be a part of the community and to help both businesses and people living there and looking for work."
Mountain Temp Services is located at 1755 Central Park Plaza. It is open 7 a.m. to 5:30 p.m. Monday through Friday.