Steamboat football looks to rookies, veterans
2007 football schedule
Aug. 24 at Kent Denver, 3:30 p.m.
Aug. 31 vs. Laramie, Wyo., 7 p.m.
Sept. 7 vs. Palisade, 7 p.m.
Sept. 14 at Eagle Valley, 7 p.m.
Sept. 28 vs. Moffat County, 7 p.m.
Oct. 5 at Delta, 7 p.m.
Oct. 12 vs. Montezuma-Cortez, 7 p.m.
Oct. 19 at Glenwood Springs, 7 p.m.
Oct. 26 vs. Rifle, 7 p.m.
Nov. 2 at Battle Mountain, 7 p.m.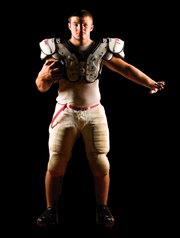 Steamboat Springs — It was brutal. It was scary. It was violent.
And if the play from Saturday's intrasquad scrimmage showed anything, it's something opposing defenses around the league will see, and see often.
It was the sight of Sailors running back Jay Hanley angry and running the football behind newcomer Fraser Egan.
While the two might be mistaken for offensive linemen with their size, they'll both be making a home in Steamboat's backfield this year.
If it goes right for the Sailors, they also might set up camp in the end zone.
"You get pretty excited," Steamboat coach Aaron Finch said of the new backfield. "When we need to get three yards, we should be able to put a set back there that will get us three yards."
The aforementioned play happened toward the end of Saturday's scrimmage.
After Egan had chipped a defensive end and then locked up a linebacker, Hanley screamed through a hole and had three defenders bounce off him like balls on a racquet before scampering 30 yards for a touchdown.
"It's probably pretty intimidating," said Egan, who moved to Steamboat from Kansas.
No kidding.
With almost 500 pounds of anger and aggression in the backfield (Hanley is 240 pounds and Egan tips in at 220), Steamboat will look to ride the pair back to the playoffs for the third straight year.
While Hanley and Egan might be asked to shoulder the load for Steamboat early on, the two aren't alone.
Steamboat returns linemen Mac Marsh and Ahmad Akkad from last year's offense, along with wide receiver Nigel Hammond.
On the defensive side of the ball, Hanley, Marsh, Hammond, Egan, Alex Wood, Ben DeLine, Cole Krahenbuhl, Cody Harris and Eric Bonner will be asked to lead another swarming and fast defense.
"We're really young," Hammond said. "We just have to figure out what we're all doing. We're getting tons better, which is nice, but there's still room for improvement."
Improvement will have to come from the offensive line and linebacking cores, where the Sailors lost several starters.
Steamboat also must replace three-year starting quarterback Tanner Stillwell. As of now, sophomore Austin Hinder is the man for the job.
Hinder, who attended several passing camps throughout the summer, including the Peyton Manning Passing Academy, comes in raw but skilled.
"Austin's a great quarterback. He could do everything Tanner could do passing. He's just missing experience," Hanley said. "He's got all the tools to do it. Once he understands how, he'll be great."
Hinder is just one of several young newcomers the Sailors will lean on this year.
Finch said when the team opens up Friday at Kent Denver, as many as six sophomores could be starting.
"It's an interesting team in that we know the athletes we have," Finch said, noting he was impressed with the freshmen team's scrimmage and the knowledge of the offense they showed. "So by the time we get to the second half of the season, you feel very positive about the type of football we're going to play. But a lot of those athletes are pretty darn inexperienced."
Finch said he's been impressed with a lot of the young players. He's confident he has a team that can compete and make the playoffs.
Finch said it's not a question of whether the team will be good, but rather a question of how fast.
With tough nonleague games at Kent Denver and at home against Laramie, Wyo., before opening the league schedule with Palisade and Eagle Valley, Finch said the beginning of the season may go a ways in determining if the team makes the playoffs.
Luckily, after Steamboat's week four bye, the team plays traditional playoff contenders Moffat County, Rifle and Glenwood Springs.
"We feel like we have a playoff team by the end of year, but do win enough games early in the year to get there," he said. "That's really our challenge and our focus."
But in a tough Western Slope League, where as many as six or seven teams will battle for the four playoff spots, Finch said the overriding goal hasn't changed.
"The goal is always the same for us every year. It's all about making the playoffs," he said. "Coming out of our league, what seed you are really doesn't matter. Once you're in the playoffs, you start that second season and set a new goal.
"That's the golden football."
- To reach Luke Graham, call 871-4229
or e-mail lgraham@steamboatpilot.com