Routt County Spotlight: Jenn Wright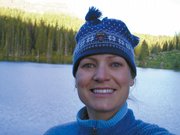 Jenn Wright
Age: 31
Occupation: Executive director of Yampatika
Place of birth: Manchester, N.H.
Q. When did you move to Routt County and what brought you here?
A. My husband and I moved here in January (which gives us 19 years and four months until we're locals). I was drawn by the cowboys on skis, of course!
Q. What's the biggest risk you've taken recently?
A. Trading in a lawyer's wage for those of an environmental educator.
Q. Describe your morning routine.
A. Up at 5:30 and out the door with my chocolate lab, Henry, for a trail run. The quiet mornings help ground me and give me perspective on the day.
Q. What's the best piece of advice you've ever been given?
A. My mother gave me compassion for others by constantly reminding me to "step into other people's shoes."
Q. What three things would you want people to know about you?
A. I "forgive and forget" easily. I look for the best in people. I see each morning as a fresh start.
Q. In the Meatloaf song, "I'll do anything for love, but I won't do that," what is that?
A. Skydive.
Q. What was your first job?
A. I was an entrepreneur. I picked the neighbor's flowers and tried to sell them back to them.
Q. Who is your favorite superhero? Why?
A. Snow White. She was a princess who lived in the woods with seven men at her beck and call. How couldn't she be every woman's hero?
Q. Do you have a tattoo? If so, what of and why did you chose it?
A. I had one, but it washed off in the shower.
Q. Do you have any phobias?
A. Heights and flying (hence no skydiving).
Q. If you could go back in time, to what event or time period would you go?
A. I would have been an explorer with Lewis and Clark. They were true pioneers and naturalists!
Q. What is your favorite thing to do in Routt County?
A. Run, hike, bike, tele ...anything that gets me outside and in the mountains.
Favorites
Book: Norman MacLean's "A River Runs Through It"
Song: "Save a Horse, Ride a Cowboy," Big & Rich
Color: Blue
Food: Chocolate!
Sport to watch: The Olympics (all sports)
Vacation spot: Tuscany with my husband
Recreational activity: Running, biking, tele-skiing ... I love them all!
Movie: "La Vita e Bella" (Life is Beautiful)
Magazine: Trail Runner