New Bear Lodge condo taking advantage of scarcity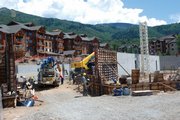 Steamboat Springs — The relative scarcity of new condominiums near the base of the Steamboat Ski Area is allowing the developers of the Bear Lodge project to gradually release units to the market.
"Up until One Steamboat Place (began selling), we had no competition in the condo market," said Michael Hurley of Australia-based ARIA Property International.
Bear Lodge is the sixth and final phase of Trappeur's Crossing at the corner of Village Drive and Medicine Springs Road. It offers 36, three-, four- and five-bedroom condominiums with typical units offering 1,900 square feet at prices above $1 million. The average asking price is $1.2 million.
"We think we're fairly priced in this market," Hurley said.
With condominiums available at prices in the $625 to $650 per square foot range, Bear Lodge units probably are below the anticipated $1,000 per square foot prices for some projects still on the drawing board or just beginning construction, Hurley said.
However, he isn't averse to holding back his remaining units to allow his company to "ride up" with the market.
He recently released four units in Bear Lodge this month and anticipates another four at mid-winter followed by four more in spring and probably the final six next summer. Prices are apt to go up with each release, Hurley said.
This month's release attracted six individual buyers vying for three of the four units, and they are reserved, but the fourth is still available.
Emerald Lodge, the predecessor to Bear Lodge, is sold out and still two months from completion, Hurley said. Those units, which are not as large as those at Bear Lodge, are under contract for prices in the $700,000s, he said.
Bear Lodge is just coming out of the ground.